The countdown in ON for our May 13th Spring into Parkdale Sidewalk Festival & Night Market - this year we promise to be bigger & more colorful with added family activities & exciting promotions taking place along Queen Street West.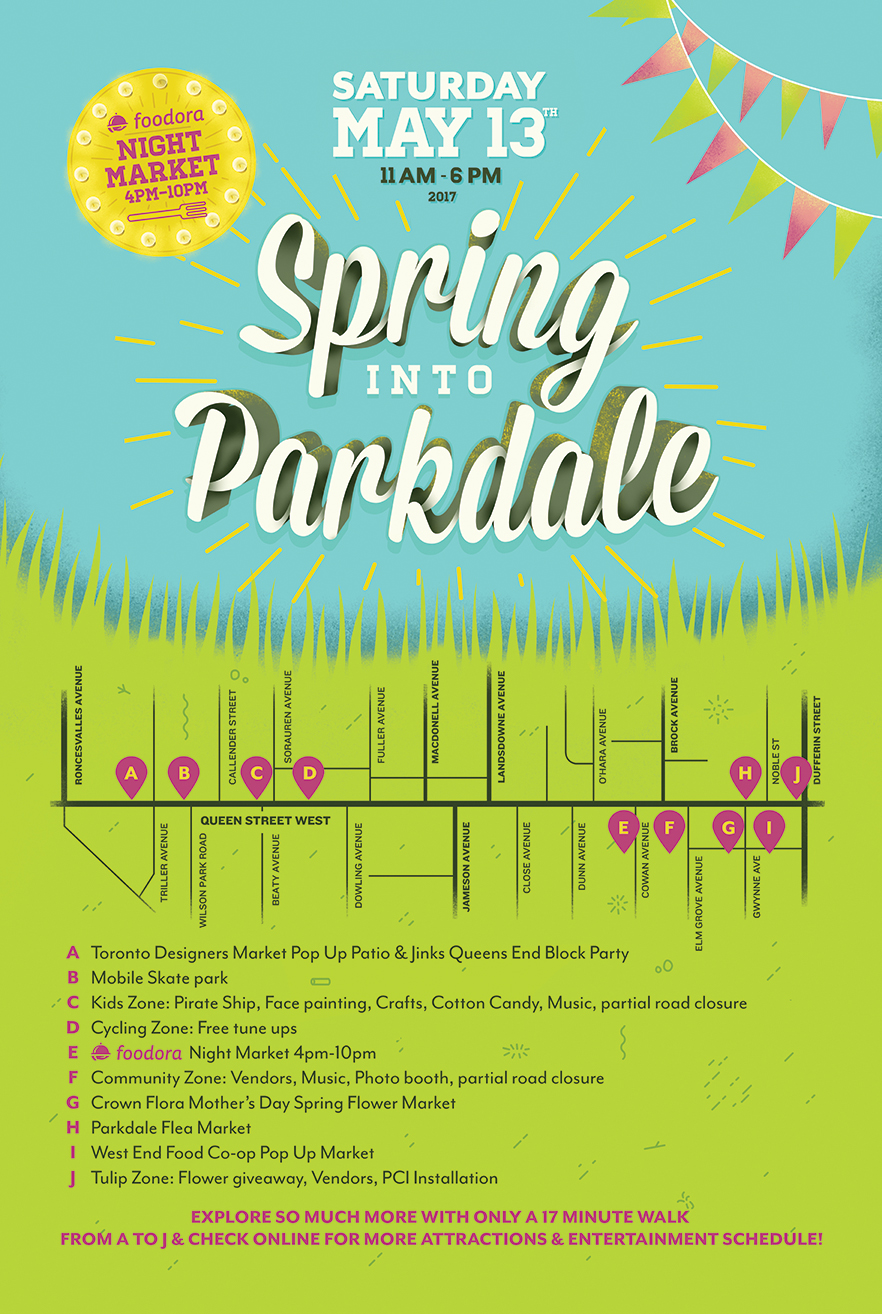 Here's a sneak peak at 4+ Markets, Pirate Ships, Murals, Music, Food, Crafts, Artists, Photo booths, Scavenger hunts & more!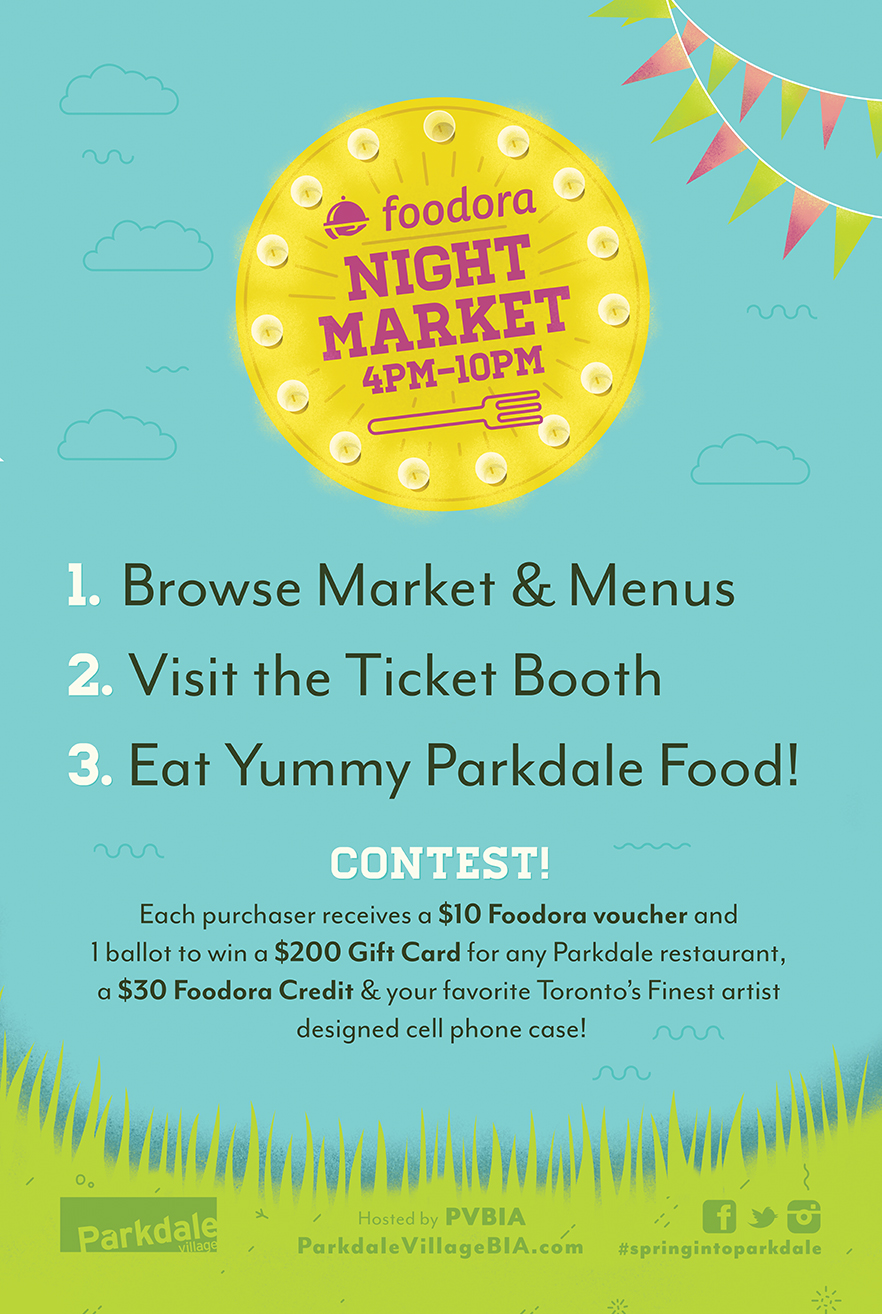 Foodora Night Market (4pm-10pm): 10,000 sqft outdoor Food Market, includes food vendors, musical entertainment, bike parking, patio seating & more! From $5 to $12 enjoy cuisine from around the world and most importantly from Parkdale Chefs, from glorious donuts to Tibetan, Japanese & Cuban inspired cuisine. Entry to the market is free, vouchers for food can be purchased online or on site, each purchaser receives a $10 Foodora coupon, plus visit 4+ food vendors & you could win a $200 Gift Card to any Parkdale Restaurant, $30 Foodora Credit & your favorite Toronto's Finest artist designed cell phone case! Get your tickets here! (1325 Queen St W @ Cowan). Tents generously provided by Roncy Rocks.

Sidewalk Sale: Browse dozens of local deals, vendors, artisans along Queen West from Roncesvalles to Dufferin! Visit local shops as they offer deals inside and out as well as giveaways or special attractions and entertainment, here's a sneak peak;
The Grand Trunk celebrates Spring with buskers, proceeds going towards PARC and artisan table.
Jinks Art Factory hosts a Block Party @ Triller Avenue with music, BBQ's and artisans!
Chartreuse Style offers sale rack items outside
Lil Demons Guitar Shop bring you musical entertainment
Check out the outdoor Art Exhibit at Shawn Skeir Gallery
Check out Sylvie & Shimmy for a store wide sale.
Visit the Parkdale Animal Hospital for Animal Portraits!
Rod, Gun & Barbers brings you musical entertainment throughout the day!
we hear Yummy Stuff might have some cupcake decorating for the kids!
North Standard Trading Post always has the best Spring deals!
Check out the new woman's boutique ParPar as they celebrate their Grand Opening!
Enjoy discounts on select items at Boutique Café
Join the Skyline Diner for brunch & enjoy some fun Spring Snacks!
Mankind Grooming offers deals on haircuts, products and a walk in specials.
Check out Showgirl's Gallery Boutique for a special Mothers Day giveaway & more!
Love & Greed offers up to 50% off select items
Support a great cause, join Cadillac lounge for their yearly fundraiser supporting Diabetes!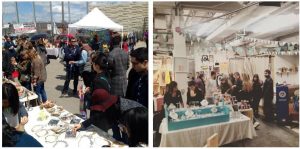 Parkdale Flea Market:
Browse this special Spring Festival edition of the Parkdale Flea Market, bringing together some of the best and most unique products from Antiques, Vintage, Collectables, Local Artisans and Designers. (
1266 Queen St W @ Noble)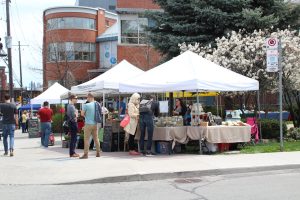 West End Food Coop Market:
 Meet l
ocal food artisans, independent craft artists and farmers while shopping our WEFC Pop up market. (1229 Queen St W @ Dufferin)
Toronto Designers Market Patio Pop up: Over 3000 sqft  featuring over 30+ designers ranging from furniture and household items to clothing and jewellery, come and explore the indoor & outdoor Patio Market! (1605 Queen St W)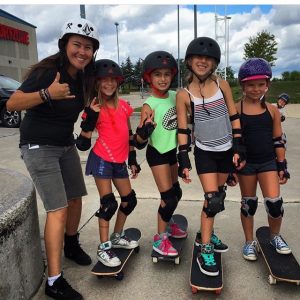 Mobile Skate park:
Get those boys & girls on some wheels! Learn to skateboard or scooter at the Evolve mobile skate park, equipment and instructors available on site! Space generously provided by 
Toronto Parking Authority
.
(1624 Queen W)
Kids Zone:
Featuring a Pirate Ship, free crafts with Environmental Art Educator Extraordinaire Linda Naccarato, Face painting with Isabel & Cotton Candy!
(Callender Ave & Queen W)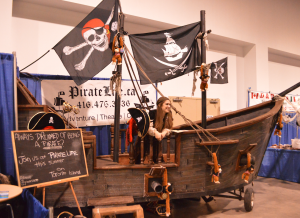 Pirate Life:
Join the crew and search for treasure! The pirates have sailed into Toronto and need your help to solve the mysteries and riddles! Climb aboard and partake in the adventure!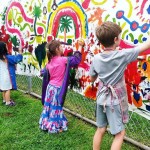 Art with Linda:
Environmental Art Educator Extraordinaire Linda Naccarato invites children, families & community members to come & help take crafting to the next level!
Spring Mobile Making
: use recycled and natural materials to create a hanging piece of art with Linda!
(Queen St W & Callender Ave)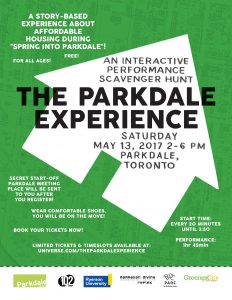 Scavenger Hunt:
"
The Parkdale Experience"
is a fun interactive performance scavenger hunt for all ages, kicking off at a secret location the hunt will take you through the neighbourhood of Parkdale with stops along Queen St W and beyond! Sign up for this 1 hour 45-minute story-based experience about gentrification and affordable housing starting at 2pm every 15 minutes until 3:30 pm and finishing off at a fun location! **Secret start-off location will be sent to you after you register!** Limited timeslots available so
book your tickets
fast here,
for info email theparkdalexperience@gmail.com SOLD OUT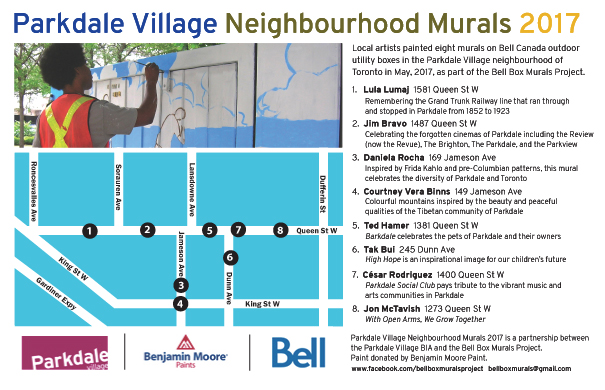 Bell Box Mural Launch:
Take a tour yourself, grab a map
@ the Tulip Zone
, meet the artists and visit all 8 recently completed Bell Box Murals along Queen West & Jameson Ave.
Read more here
& click here for 
Map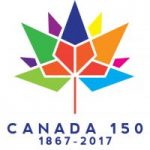 Parkdale Song Project for 150 Canada:
Enjoy a 30-minute concert, featuring Grade 7/8 students from Parkdale Junior & Senior PS and Fern PS, and Grade 5/6 students from Queen Victoria PS, performing songs created in a
Canada150
Fund-supported project facilitated by Juno-nominated and Queen's Diamond Jubilee Medal awarded singer-songwriter Mike Ford (Prologue to the Performing Arts). The diverse learner-created songs explore and celebrate local and national stories with lyrics in English, French, Tibetan, Tamil, Hungarian, Spanish, Mandinka, Tagalog, Arabic and Cree. Accompanying the student performers will be Mike Ford and Parkdale percussionist Brad Hart.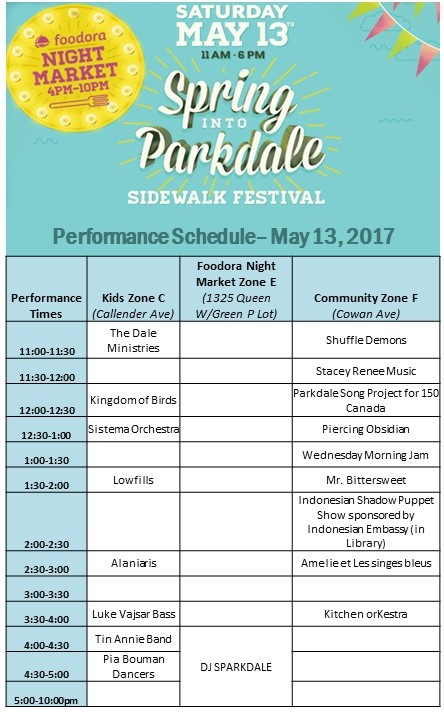 Music to our Ears: Enjoy a mix of musical genres from Francophone Jazz by Amelie et Les singes bleus band, Greek Folk by Alaniaris to world & folk music by the Kitchen Orkestra quartet. There's something for every music lover! Click for Performance Schedule

Photo booth @ Community Zone:
Grab some props and get a free family or friends portrait by Parkdale Photographer
Becca Gilgan
! Silly faces recommended!
(1313 Queen St W)
Art Installation: "Housing and Health: Unlocking Opportunity": 
In collaboration with Toronto Public Health, explore what members of
Making Room Community Arts
program at the
Parkdale Activity Recreation Centre (PARC)
have been working on answering in their latest art project: "
It's Home
."
(1313 Queen St W)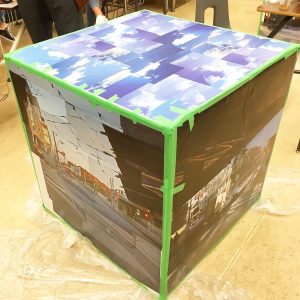 Art in the Streets:
Explore a large interactive photography installation of 3D Cubes produced by Parkdale Collegiate Institute Students, guided by local artists Hitoshi Murakami and Vincent Luk from
Northern Contemporary Gallery
, in conjunction with the
Parkdale BIA.
 Or leave your mark on Parkdale with Parkdale-based visual artist
Bareket Kezwer
as she invites you to share what makes you happy in her interactive chalk installation – come out and take part in her ongoing project #365daysofsmile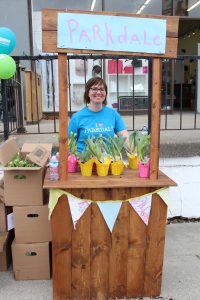 Tulip Giveaways @ Tulip Zone:
Over 500 tulips handed out to visitors & just in time for Mother's Day!
More announcements coming soon! Follow our event on Facebook too.