A Business Improvement Area (BIA) is an association of commercial property owners and tenants within a defined area who work in partnership with the City to create thriving, competitive and safe business areas that attract shoppers, diners, tourists, residents and new businesses. The Parkdale Village BIA was established in 1978 and represents the vibrant commercial strip along Queen Street West from Dufferin Street to Roncesvalles Avenue.

Navigating City Services
Need a license or permit? Questions about your Property Tax Assessment? Want to get money back for reducing your energy use? The BIA is here to help you navigate City processes and take advantage of its resources, services, and incentive programs. Let us know how we can help you.
Graffiti Removal
Annually over 600 instances of graffiti were removed in Parkdale for the purpose of the BIA's graffiti removal maintenance program. As part of your membership, we pay and manage removal from the front of your building façade as well as the sides (up to 25 feet from the sidewalk). Inspections and removals take place on a bi-weekly basis (weather depending). Let us know if your building requires attention within or beyond the parameters.
Branding
The BIA has a number of other branded assets such as 32 decorative banners on utility poles, as well as Parkdale stickers on 30+ City litter receptacles.
Economic Development Services
The Parkdale Village BIA allows local business people and commercial property owners and tenants to join together and, with the support of the municipality, organize, finance, and carry out physical improvements and promote economic development in their district. The City of Toronto's Economic Development Division administers various programs and resources that provide funding and resources to property owners/tenants and businesses.

For more details on the available programs and eligibility requirements, please visit The City of Toronto Financial Incentive Program Page at Business Incentives & Grants
Murals & Public Art
Parkdale's public art is an attractive display of community pride and local talent. The BIA worked with local artists to add 8 new murals on Bell utility boxes and regularly supports new mural projects to beautify the neighbourhood. The StreetARToronto (or StART) is a pro-active program that aims to develop, support, promote and increase awareness of street art and its indispensable role in adding beauty and character to neighbourhoods across Toronto, while counteracting graffiti vandalism and its harmful effect on communities. If you would like to learn more about this program, click here. Additionally, you can visit The City of Toronto Financial Incentive Outdoor Mural & Street Art Program page for other mural grant opportunities. Let us know if you would like to have a mural installed in your laneway or on your building!
Streetscape & Beautification Projects
The Parkdale Village BIA funds and manages a number of neighbourhood beautification projects and assets in the area which help beautify, create safer streets, enhances way finding and gateway intersections into the area as well as helping tie the area together visually.
Pedestrian Lighting
As part of our mandate to create safer streets, enhance way finding and gateway intersections into the area as well as help tie the area visually, the BIA has installed over 40 pedestrian lights along Queen Street West and some side streets. Seasonal décor such as floral hanging baskets or decorative winter lighting (i.e. snowflakes) are added to the pedestrian lights. To report damage or maintenance needs contact our office.
World Peace Monument
The BIA manages the maintenance of the World Peace Monument located outside the Toronto Public Library Parkdale Branch in the Parkdale 'Town Square'. The monument/fountain was erected in 2005. Unfortunately, the foundation has extensive structural damage, however, the BIA hopes the Parkdale Community HUB Project (click here) will allow us to finally rejuvenate the Monument. If you have any questions regarding the status of the structure or would like to report vandalism, please contact our office.
Clean Streets
In 2019, the BIA launched a Clean Streets program. In 2023 the program will continue to expand to include weekly year-round street cleaning by Parkdale Green Thumb Enterprises. The program is supported by the City of Toronto, Solid Waste Management Services.
Floral Programs
We continue to manage the installation, watering and maintenance of our 180+ floral assets that include sidewalk planters and 7 gardens, including the newly renamed Parkdale People & Pollinators Peace Garden, in Honour of Parkdale's Black Communities, located at Queen W & O'Hara. The sidewalk planters are permanent fixtures and are located along Queen Street West and on select side streets. Seasonal floral arrangements are watered and installed in the Spring & Winter. Please contact us to report any vandalism or damage.
Art, Craft Supply & Workshops
Arts
Auto Services
Bakery
Bars
Beauty, Salon, Barber Services
Bike Repair and Bike Rental
Books, Music & Videos
Butcher
Cafe
Community Contacts
Computer, Digital, IT Services
Dispensary
Drycleaners & Laundry Services
Event Space
Fashion, Jewellery, Accessories
Financial Services
Grocery, Variety & Discount Stores
Health & Medical Services
Home Decor, Interior Design
Legal Services
Media, Design, Production
Parking
Pet Services
Restaurants
Services
Tattoo Services
Telecommunications Services
Video Games, Collectibles, Comics
Promotion & events
The Parkdale Village BIA promotes your business or organization through our web directory, enewsletter and active social media accounts. In addition to our shop window decals and reusable bags, we typically produce and distribute over 2,000 community brochures and support and sponsor a number of community initiatives.
Have an event you need help with or wish to promote? Contact us today!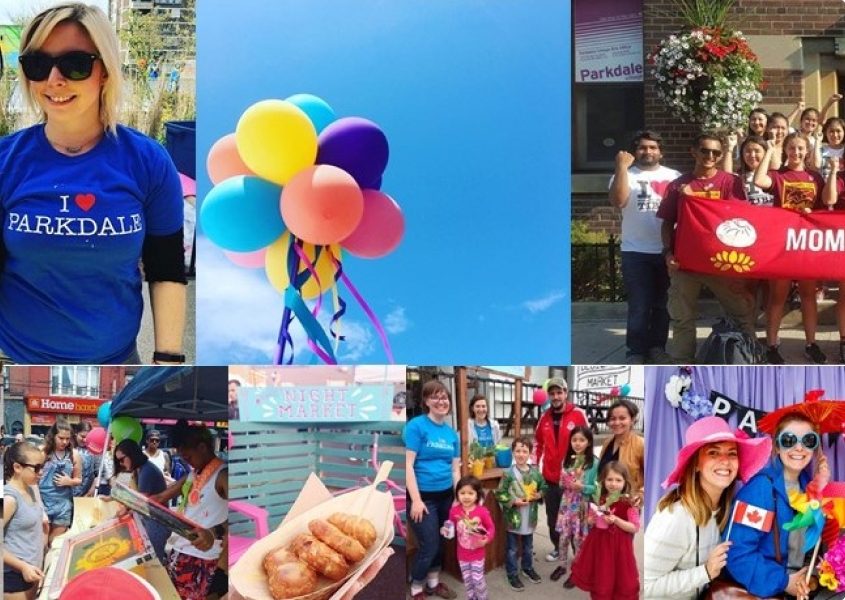 For questions related to streetscape maintenance, business resources, navigating City services, member support services, marketing and events or leasing space in Parkdale, contact email us today to book an appointment.

---
Contact Us
Address:
1313 Queen Street West, Toronto, ON M6K 1L8
Email:
Phone: