If you've ever walked through, near or around the Queen St. W. and Sorauren Avenue intersection then you've certainly walked passed PARC, however, like many visitors and even residents you may not have realised that there lies an organization that is the heart of Parkdale. The idea of PARC (a social service agency) was born in 1977 when a group of volunteers observed the large number of adults living in Parkdale rooming houses and boarding homes. Many were survivors of the psychiatric system, had little money, few family contacts and no real place to go and connect with peers. Throughout its 30+ year history, PARC members have been making their presence known to the community in positive and creative ways such as a street-side flea market in the late seventies
(photo below).
Other arts + craft groups to come out of PARC include Bitch 'n Stitch, a candid harm reduction group from the 80's and the modern-day Knitting Group, responsible for various 'yarn bombings' seen on traffic poles around the neighbourhood. A recent edition to PARC's programming is the
BOOK WITH US
, reading and discussion series, with next week's guest author
Andrew J. Borkowski
, Winner of the 2012 Toronto Book Award, as he shares his collection of short stories from "Coppernicus Avenue" on Monday January 21st, 2013 at 7pm.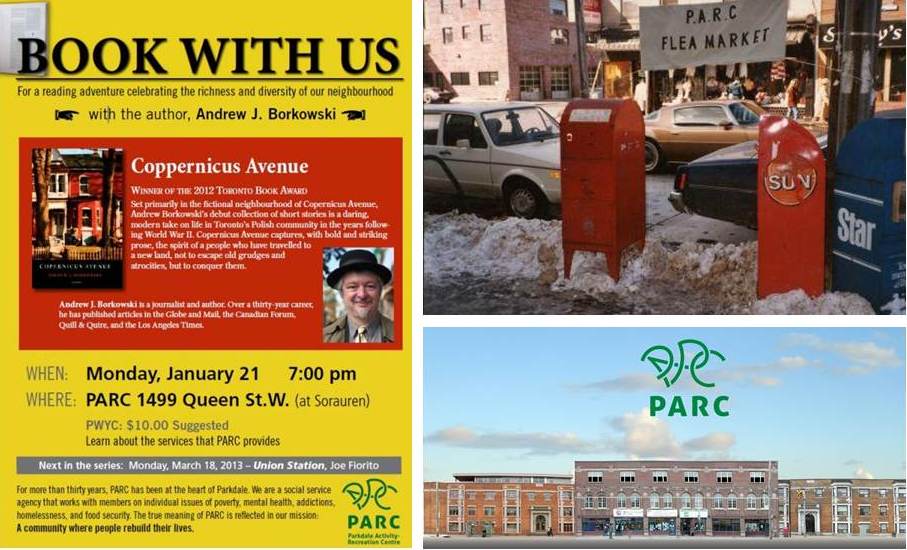 Set primarily in the neighbourhood of fictional Copernicus Avenue, Andrew Borkowski's debut collection of short stories is a daring, modern take on life in Toronto's Polish community in the years following World War II. Featuring a cast of young and old, artists and soldiers, visionaries and madmen, the forgotten and the unforgettable, Copernicus Avenue captures, with bold and striking prose, the spirit of a people who have travelled to a new land, not to escape old grudges and atrocities, but to conquer them. To learn more about PARC,
visit them here
. Get to know PARC's Neighbours:
grab some breakfast
,
cater your next party
or
order more cowbell!
Photo: PARC