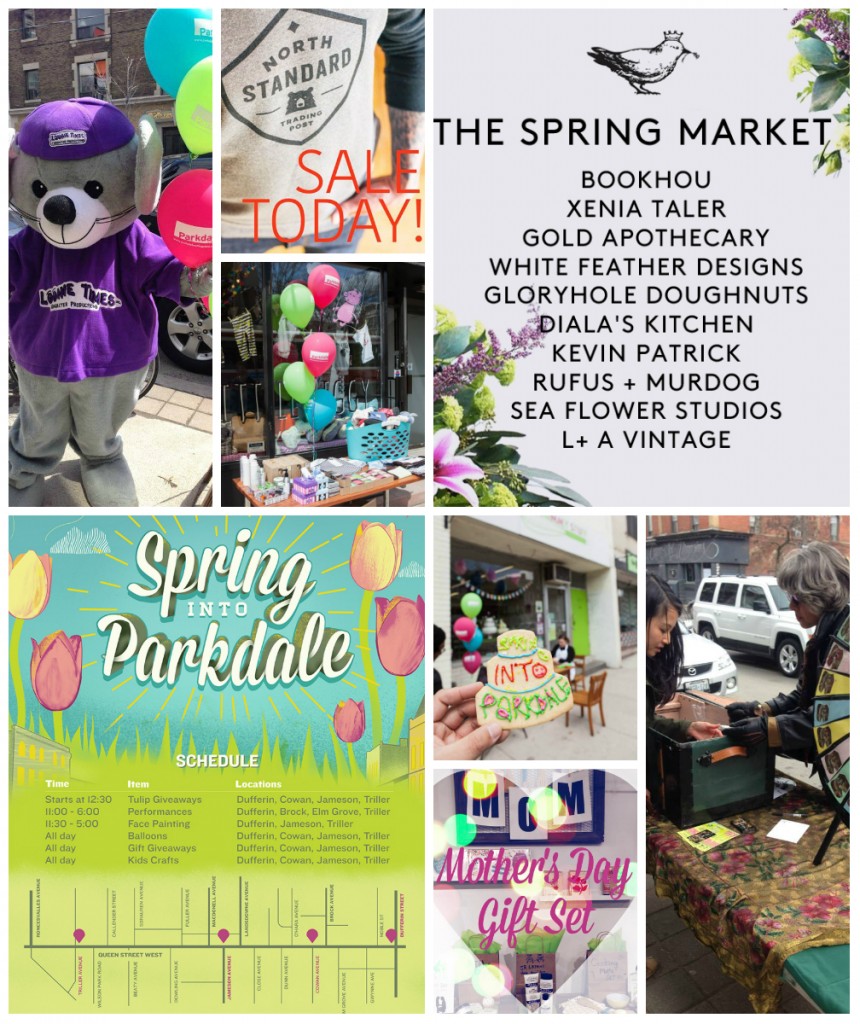 Live entertainment, shopping deals and great food are just some of many reasons to come spend the day in Parkdale this Saturday May 9th!
Join us this Saturday as we celebrate the third Spring into Parkdale Festival and Sidewalk Sale from 11:00 am – 6:00 pm.  The Parkdale BIA will be set up at four (4) key intersections all day long Queen and Triller, Queen and Jameson, Queen and Cowan and Queen and Cowan. We have over 75 businesses and community organizations also joining in on the fun this year too! For a list of participating businesses and locations please see below and click here for a map to all the fun:
Norling – 10% off until 5:00pm
Contrast Living – When customer buys $10 or more, they will get a Hello!Sunshine Soap for free. sidewalk sale (selected items), and also some Mother's Day gift set in store.
The Tempered Room – Spring Festival and Mother's day special!
Cambie Designs – 10% off of our BLANKETS
North Standard Trading Post – 15% off  sale on North Standard goods
Shopgirls Gallery Boutique – Sidewalk sale rack and mother's day promotion
Food and Liquor – Food sampling/Drink specials
Wind Grove Interiors – Check out the new Showroom Upstairs – Sidewalk Sale on selected items
Black Pug DMK – Check out the new workshop with teaching/ tool clinics in the lower space.
This Little Piggy – pop up shop with Elise Maree Trickey in the store, we will have a sale as well. The entire shop will be 15 % off.
Mankind Grooming Studio for Men – Mankind will be very happy to offer complimentary beard/moustaches trims and 20% off on all of our products.
Public Butter – for a giant bicycle sale, as well as offering deals on all our furnishings and clothing.
Community 54 – DJ set-up outside doing scratch lessons and demos for kids
Duggan's Brewery – Grab some BBQ, made on site root beer and cream sodas for the kids, live music – Brewery Tours inside
Yummy Stuff – Come by and decorate your own cookie! While you're there pick up something for mom with discounts on mother's day cakes, cookies etc.
Made You Look – Jewellery Artists will be set up outside to showcase their beautiful work and offer special deals!
Mata Petisco Bar  – will be offering some delicious menu items, which include: specialty in house peppers and Brazilian style street food (Cheese Bread, Cassava Frites, Pastel)
 Frou Frou Vintage – Sidewalk sale on selected items outside  and offering discounts on goods inside the store
West End Comics  – Storewide Sale – 20-75%! trades, comics, action figures, statues
 Westend Food Coop – Mini farmers market and artisanal foods (gelato, cheese, etc.)
Studio Brilliantine – Sidewalk sale on selected items
The Boreal Gelato Company –   will be hosting artist vendors in store and on the bench outside
Captains Treasures – Sidewalk sale on selected vintage and antique furniture and items. Don't forget to check out the huge selection inside as well!
Glory Hole Doughnuts– Come visit Glory Hole at the Crown Flora Spring Market!
Chartreuse Style – Sidewalk sale – discount rack on selected items, plus save the tax on all purchases
Steve Pella Hair – Sidewalk sale on selected hair care products
Daisies Vintage  – Sidewalk sale – Everything on sale for 30% off, this includes vintage clothing and antique household items / small furniture pieces. Free freezies, popsicles and drinks!
Capital Espresso – Refreshing cold drinks and great coffee!
Sylvie and Shimmy – We will be having a 20% off store wide sale for the Spring into Parkdale event which we will continue on Sunday, as we are celebrating our 2nd Anniversary.
96 Tears Vintage – Sidewalk sale – rack of clothing
House of Vintage – Lots of vintage goodies and deals.
Kid Icarus – This weekend only! – Buy any 2 Kid Icarus cards and get the 3 one for free
Cadillac Lounge – Seniors country live music matinee on our patio from 3:30 to 6:30
Crown Flora Studio – Spring Market, gift giveaways, special gifts for Mom
Jola's Good Catch – Full day of programming and sales
Loonie Times – See the Loonie Times Mascot throughout Parkdale, Plus stop by the shop and get a behind the scenec look of the Loonie Times shop where some of the most recognized and loved mascots are made!
The Well of Alternative Medicine – will be doing a sidewalk sale, We will have items off on clearance as well as packaged basket bundles at discounted prices for those last minute Mother Day shoppers.
 Spring into Parkdale Media Advisory – MAY 2015