Call for Volunteers for our May 13th Spring into Parkdale Sidewalk Festival & Night Market
The Parkdale Village BIA is looking for volunteers to lend a friendly hand during an outdoor community event on Saturday May 13
th
, 2017 – in Parkdale! If you love Parkdale, are friendly and excited to support the community and local businesses, please email Kahlin Holmes at info@parkdalevillagebia.com and briefly share your availability, past volunteer work and duties you think you would be suitable for. Up to 30 Volunteer positions are available for a series of four (4) to six (6) hour shifts, scheduled between 8:00am & 11:00pm. Duties may include:
Night Market ticket booth
Photo Booth Assistant
Sound Equipment Support
Driver
Booth set up and tear down (must be able to lift 40 pounds)
Helium Tank/Balloon Operator
Cotton Candy Operator
Craft Workshops
Face Painting
Cleanup/hospitality crew
Survey Outreach
Volunteers/Staff may be required to participate in a training session.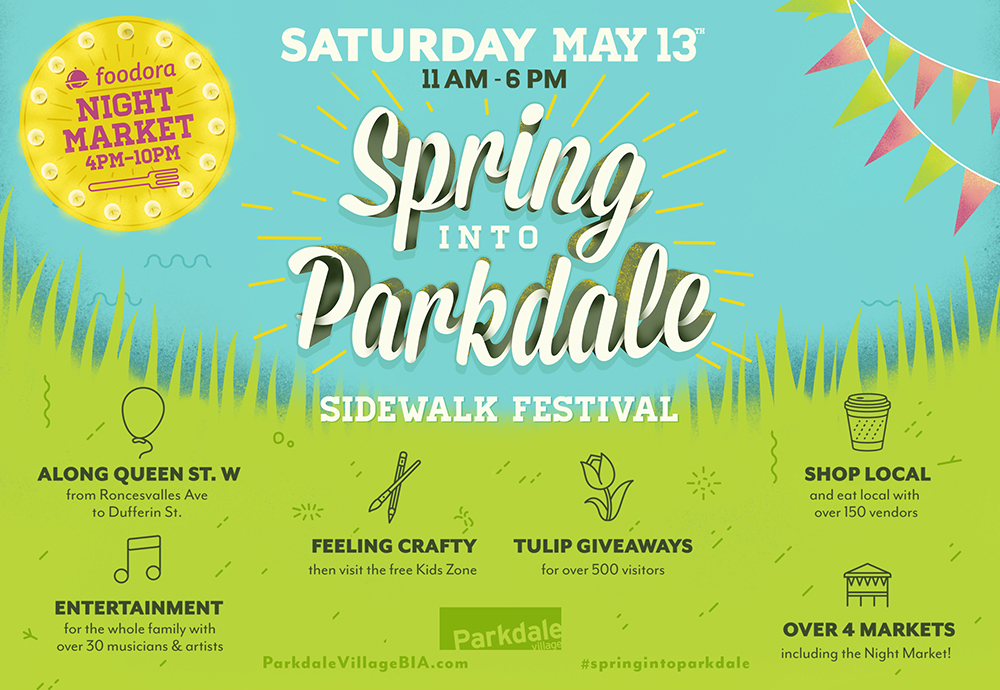 Spring into Parkdale Sidewalk Festival
The Parkdale Village Business Improvement Area (PVBIA) invites you to
Spring into Parkdale Sidewalk Festival
on Saturday May 13
th
, 2017! Time to shake off those winter blues and visit Parkdale Village's Queen Street West this spring for a weekend filled with sidewalk sale deals and free fun for the family. Come out and meet shop owners, crafters, artists and community groups that make up our thriving neighbourhood!  Throughout the day enjoy some special attractions such as live performances, free craft workshops, Markets and surprise giveaways!