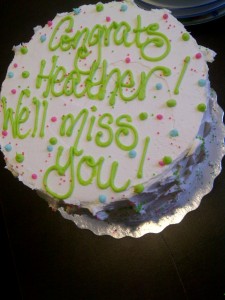 As some of you may know, our wonderful Executive Director of over 4 years has left the BIA to take an amazing new position at another organization.  Heather's contributions to the BIA have been invaluable, and she has been instrumental in making PVBIA one of the most happening BIAs in Toronto.  We will miss her and wish her all the best in her future endeavors!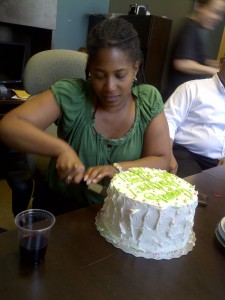 On Tuesday we celebrated her tenure at the BIA with a delicious cake courtesy of Morag Cleeveley from Yummy Stuff Bakery.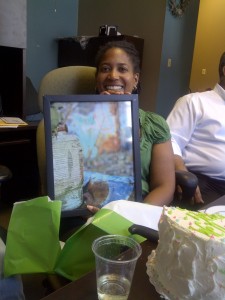 We also gave Heather a beautiful photo to remind her of Parkdale, taken by a PCI student as part of the Parkdale Who Knew? CONTACT exhibitions, which Heather created and coordinated.
Heather will always treasure the time she spent in Parkdale and meeting all its wonderful community members and business owners.
The PVBIA is now accepting applications for the position of Executive Director.  The job listing on Charity Village can be found here.
In the interim, Ellie Anglin will be serving as Acting Executive Director.  Please contact her at director@parkdalevillagebia.com or at 416-536-6918.