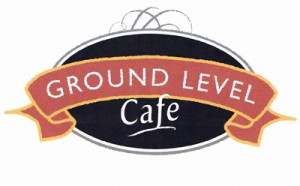 On Wednesday October 19th at 7 pm, Groundlevel Cafe invites you to help them PAINT THE TOWN:  GREEN!
For several years now, the Ground Level Café has been serving fair-trade, organic coffee as a matter of principal.  According to owner Mike Wood Daly, with their cafe providing careers for at-risk youth – serving coffee off the backs of exploited workers and in ways that harm the environment just doesn't make sense.
In keeping with this idea, Ground Level is working to make their café even greener – by introducing a number of fairly-traded, natural and organic products – many of them gluten free and many of them produced locally!
Groundlevel is also introducing  an exciting new project they're partnering with called  The Food Chain.  The Food Chain is designed to provide licensed kitchen and market space for small scale food producers in the Parkdale area; artisans who are currently producing delicious foods like jams, pickles, chocolates and baked goods from their homes.  Groundlevel's role in the project will be to provide market space in the café for their products, to offer mentoring on various aspects of business development, and to provide logistical support for ordering locally grown organic produce and ingredients.
If you are interested in helping to support Groundlevel in these endeavours, please attend:
WEDNESDAY OCTOBER 19th at 7 pm.
Tickets are $25 at the door.
$20 in advance and can be purchased at the café.
A donation of $20 through our website before October 18th
will also reserve a spot for you on the guest list.
All tickets will be entered in a draw for a framed, limited edition print
by renowned Canadian artist, Robert Bateman.
The evening will include opportunities to purchase and/or bid on a wide selection of framed, limited edition prints by Bateman and well-known artists as well as a variety silent auction items contributed by local businesses, some great jazz, food and drinks!  All purchases involving artwork will also be eligible for a charitable tax receipt.
If you would like to see some of the Bateman prints available please visit their website at www.glyv.org or see Groundlevel's youtube presentation at  http://www.youtube.com/watch?v=7patySBcd9w
For more information on the event or to make a purchase of one of the Bateman prints in advance of the event please contact us at mike@glyv.org or by calling 647-278-8370