Please visit our KQQR Construction Page to view up-to-date details involving this project. The page is dedicated to the Infrastructure Improvements at the Intersection of King Street West, Queen Street West, The Queensway, and Roncesvalles Avenue (KQQR Construction)
Start Date: September 8, 2020 End Date: August 2022
---
---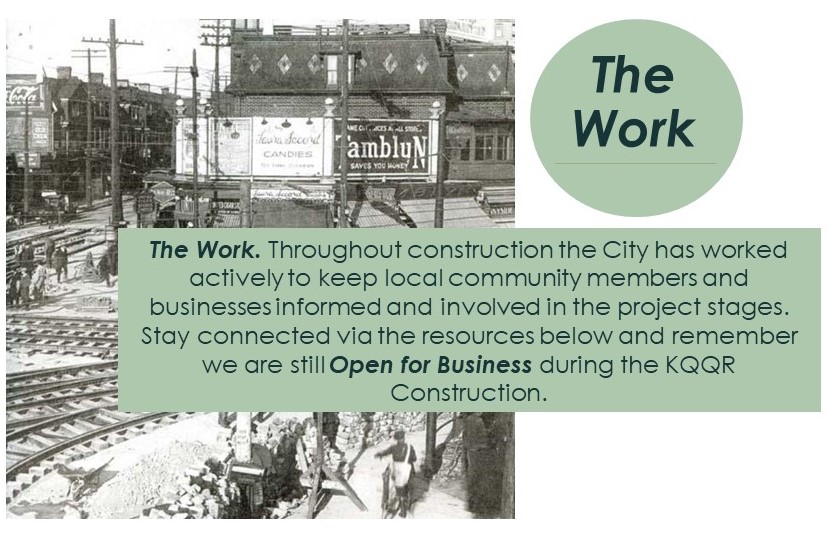 Virtual Trailer
The City is also hosting Virtual Trailer Drop-In Sessions where members of the public can join, (virtually), to ask questions about the ongoing KQQR construction work. City staff and a representative from the local City Councillor's office will be at the meeting to either provide answers on the spot or report back shortly after.
Construction Liaison Committee (CLC)
Throughout construction, the City will be meeting on a regular basis with affected groups adjacent to construction locations. The CLC is an advisory committee and not a formal commenting or decision-making body of the City of Toronto. The purpose of the CLC is to provide community input and advice to City staff regarding construction. The CLC is comprised of the following local interests:
Business Improvement Area (BIA)
Resident's Associations
Community Organizations
Neighbouring Properties
Ward Councillor
City Staff: Project Manager, Transportation Services and Senior Public Consultation Coordinator
Contact
Michael Vieira
Metro Hall
Senior Public Consultation Coordinator
Telephone: 416-392-3074
Email: kqqr@toronto.ca

To View more please visit our KQQR Construction page link here.