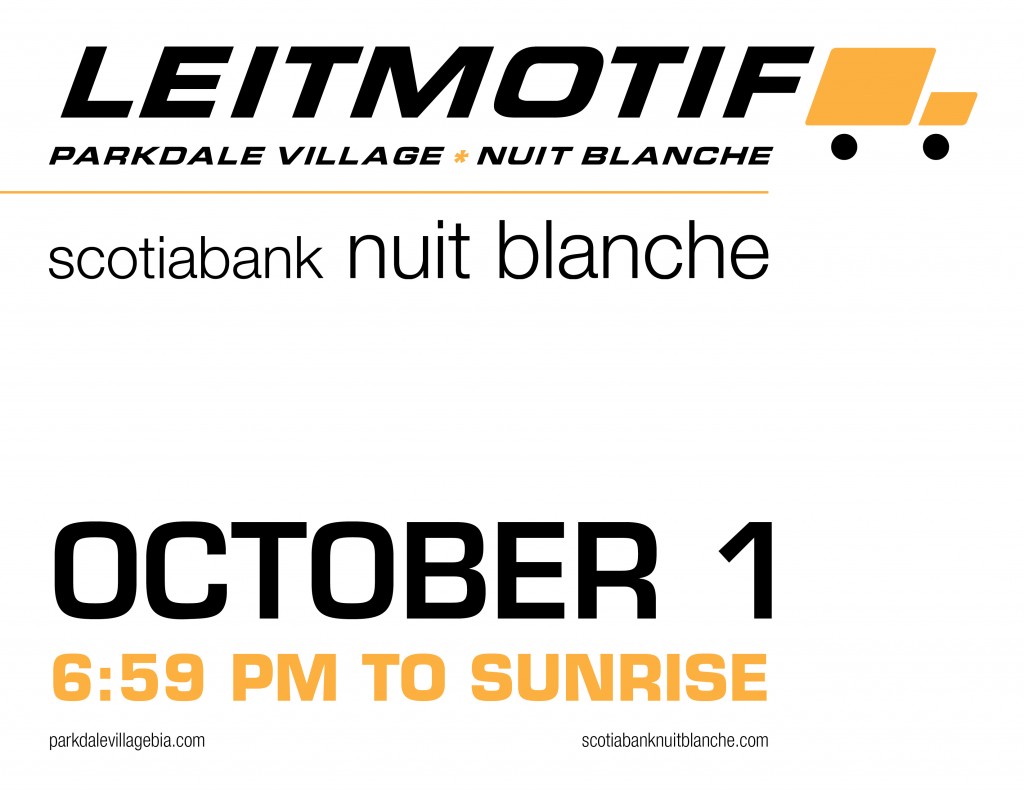 AMANDA BROWDER | www.amandabrowder.com
[caption id="attachment_112" align="alignright" width="337" caption="Volunteer to be part of the collective sewing project at the Leitmotif section of Nuit Blanche. Visit The Workroom on Queen St. to donate fabric, sew, and chat with the artist. Be PART of Nuit Blanche and find your slice! click on this photo for more information!"]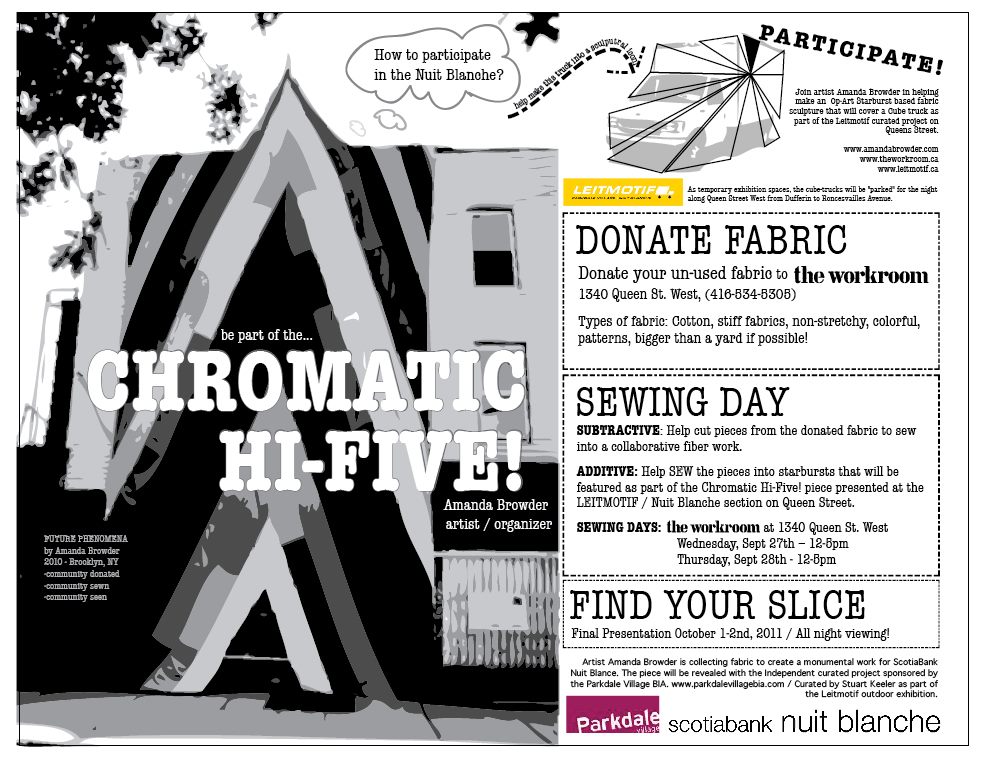 [/caption]
Chromatic Hi-Five!
: Additive and Subtractive
involves the action of "community" as paralleled with the construction of a site specific large-scale fabric sculpture.  Cutting, sewing, tailoring, talking, and collaboration - these processes form what makes this project an additive and subtractive experience which aims to collaboratively build the sculpture with the parallel uniqueness of what is "collaborative."  The artist aims to question the citizens of Toronto with the conceptual approach of gathering and collecting as community praxis. The works seek to physically challenge the uniqueness of the individual a represented in a color field of fabric donations sewn into a mono-chromatic conversation. Born in Missoula, Montana, Amanda Browder currently lives in Brooklyn, NY. She received her MFA/MA from the UW at Madison.With a recent grant from The Brooklyn Arts Council and supported by the NBArt group, she completed
Future Phenomena
; a community driven, large scale fabric sculpture that hung off an apartment façade in Greenpoint, Brooklyn, NY. She has exhibited nationally and internationally at the SWAB Art Fair, Barcelona; Gallery Poulsen; Copenhagen, Denmark; Nakaochiai Gallery, Tokyo, Japan; Lothringer 14, Munich, Germany; and White Columns, New York.  She is also a founder of the art-podcast
www
.
badatsports
.
com
and member of the Round Robin Collective.
###
LEITMOTIF on Facebook [Leitmotif | Scotiabank Nuit Blanche]
LEITMOTIF on twitter
[Leitmotif2011]
Thank you to the Ontario Arts Council for their support of LEITMOTIF
LEITMOTIF is possible with good spirited collaborative support by Advantage Car & Truck Rentals – www.advantagecarrentals.com
LEITMOTIF is also appreciative of the support we are receiving from the following community sponsors:
Advantage Car & Truck Rentals, Barton Floor Coverings, Belle Optical, Brock Carpet, Capital Espresso, City of Toronto Public Library – Parkdale Branch, Common Sort, Free Radio Berkeley, Future Cinema Lab at York University, Gladstone Café, The Gladstone Hotel, Hope Neon, Ltd., Imagine8, Ingrid Mueller Art + Concepts, Mangez, Mascot Café, Misfit Studio, São Paulo Biennial Foundation, OCADU, PARC, Parkdale Village BIA, Public Butter, Queen West Antique Centre, Queen West Subscape Inc, Rhino, Shop Girls, Studio Brilliante, Toronto Public Space Initiative, The Workroom and the spirited community of Parkdale Village.