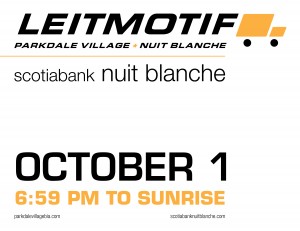 CAROLINE + GORD LANGILL |
www.ocad.ca/faculty_biographies/bio
Brian's Songs
is an audio installation that traces an interaction between the evolution of the AIDS pandemic and the accumulation of an individual's operatic archive over the same period. This work memorializes the exuberant and rigorous archival efforts of one man with a passion for living, healing and opera. Caroline is a Peterborough-based artist whose academic scholarship and curatorial work pertain to the intersections between art and science. Presently, she is an Associate Professor at OCAD University where she also teaches courses revolving around technology and digital culture. She is a recent fellow at the Daniel Langlois Foundation, in Montreal. Gord
is a social worker and therapist who specializes in the field of early psychosis intervention. Together with Caroline, they have developed DIY technology for use in kinetic installations and land-based art. This is their first collaborative public artwork.
RYAN LIVINGSTONE |
www.ryanlivingstone.com
Harbinger
is a statuesque representation of the black crow; mysterious and surreal, which communicated the crow's position as a universal inspiration for art, literature, and legend, holding a symbolic position as a scoundrel in some cultures and creator in others.  Commonly seen as harbingers of doom, crows have been adapting alongside us as our spaces and environments evolve, both rural and urban. The highly evolved corvid is a reminder of our own evolution and adaptability, while simultaneously also being a symbol of death, a constant reminder of the brevity of our own existence on earth. Crows are powerful metaphors for life, death, and creativity. I see the crow as artist and creator, trickster and mimicker, scavenger and collector, soul and lover.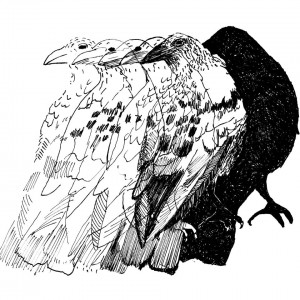 Livingstone is an emerging Toronto based artist, born in the East Coast of Canada.  His artistic practice is often project based and not bound by medium, exploring forms of installation, sculpture, printmaking and painting.  The work has explored nostalgic histories found within Canadian identities and culture, while simultaneously also reflecting the landscape both rural and urban.  His work is often driven by a playful and poetic combination of love, life and loss.  Ryan has a BFA from Ontario College of Art and Design University, and has studied at the New Brunswick College of Craft and Design.  Ryan is represented by Ingrid Mueller's Art and Concepts.
JOHNSON NGO |
http://ngojohnson.blogspot.com/
Unbecoming
is a live performance where individual identity is lost, emphasizing the artist's Asian physical characteristics, while challenging ideas of gender. Throughout the performance, the artist will cast his body with edible rice paper, fashioning a new identity; one that is neither male nor female. Ngo is a Toronto based multidisciplinary artist, primarily working with performance, video, sculpture, and print. Recent exhibitions include Spark Contemporary Art Space, Toronto Free Gallery, 7a*11d, Blackwood Gallery, University of Toronto Art Centre, Mississauga Living Arts Centre, and Hart House. Ngo would like to thank Allyson Mitchell and Deirdre Logue for their assistance with this project. ###
LEITMOTIF on Facebook [Leitmotif | Scotiabank Nuit Blanche]
LEITMOTIF on twitter
[Leitmotif2011]
Thank you to the Ontario Arts Council for their support of LEITMOTIF
LEITMOTIF is possible with good spirited collaborative support by Advantage Car & Truck Rentals – www.advantagecarrentals.com
LEITMOTIF is also appreciative of the support we are receiving from the following community sponsors:
Advantage Car & Truck Rentals, Barton Floor Coverings, Belle Optical, Brock Carpet, Capital Espresso, City of Toronto Public Library – Parkdale Branch, Common Sort, Free Radio Berkeley, Future Cinema Lab at York University, Gladstone Café, The Gladstone Hotel, Hope Neon, Ltd., Imagine8, Ingrid Mueller Art + Concepts, Mangez, Mascot Café, Misfit Studio, São Paulo Biennial Foundation, OCADU, PARC, Parkdale Village BIA, Public Butter, Queen West Antique Centre, Queen West Subscape Inc, Rhino, Shop Girls, Studio Brilliante, Toronto Public Space Initiative, The Workroom and the spirited community of Parkdale Village.