Our webpage isn't the only new site up and running in Parkdale Village BIA….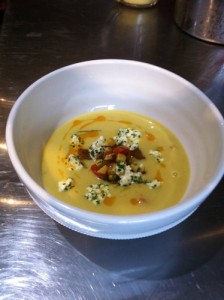 Keriwa Café (1690 Queen Street West
).  With a seasonally local and organic twist on Aboriginal recipes and more contemporary dishes, Chef Aaron Joseph Bear Robe alongside Sous Chef Dennis Tay have introduced a unique new addition to Parkdale's diverse restaurant roster. We had the opportunity to celebrate Keriwa's opening on Wednesday, August 10
th
and were very impressed with the rustic yet elegant feel of the restaurant. The time and care put into the design shows; the Birch Bark installation stood out for us, yet was in heavy competition with many other artistic pieces gracing the walls and within the loving design of Keriwa. As for the food, wow! After a long time debating over all the delicious options (Braised Bison Tail, Corn Soup (pictured) Tomato Watermelon Salad, and Bacon Wrapped Whitefish - just some of the other temptations), we dined on Rock Hen with Roasted Bread Salad, with Tomato and Artichoke. Peeking over at other diners, we weren't the only ones impressed by every bite of what Aaron was cooking up in the kitchen. Congratulations to Keriwa Café and its amazing staff for a wonderful opening, and welcome to the neighbourhood!  
Other new neighbours that have opened this summer:
The Boreal Gelato Company (1312 Queen St. W)
has introduced homemade Italian style ice cream, sorbet and other frozen treats to Parkdale. Drop by and savour delicious, refreshing flavours like coconut cream, raspberry sorbet, and salted caramel. Flavours change seasonally, and Boreal is always open to hearing requests!  
Sizzling Grill (1468 Queen St. W)
serves up fantastic Mediterranean fare including Kafta Kebab, Falafel, and Shawarma. Their menu also includes more Western fare; try their delicious burgers!  
Tim Hortons
has opened shop at 1468 Queen St. West.  
Winnie's Sub & Mac (218 Close Avenue)
offers Parkdale fresh, homemade subs, sandwiches, soups, green salads, juices and more!  
Wind Mobile (1454 Queen St. W
) has a wide range of mobile services for cell phone users.