Join us January 21-24th and help celebrate Parkdale's 137th Anniversary by shopping local, sharing Parkdale stories, memories and strolling the strip!  Visit some of the local shops celebrating our rich history:
Duggan's Brewery - Parkdale 137th shop owner and community Reception Thu Jan 21 @ 8pm, RSVP required (director@parkdalevillagebia.com), space limited
The Grand Trunk - Parkdale 137th Birthday Party Friday Jan 22 @ 10pm.

Drink specials, fun and friends! A few sweet surprizes too! No cover.

Chartreuse Style  - Enjoy 10% off all regular priced items & up to 50% off select items
Contrast Living - Receive a gift with purchase when you spend $40+, and all walk-in customers will be entitled to enter a draw for a 7kg giant salt lamp!
Yummy Stuff - 15% off birthday cakes
Sylvie & Shimmy - 15% off new arrivals on Jan 23 only
Gloryhole Doughnuts - D-nut special
This Little Piggy - up to 25% off winter clothing & accessories
Studio 1484 - up to 20% off
Public Butter -  up to 50% off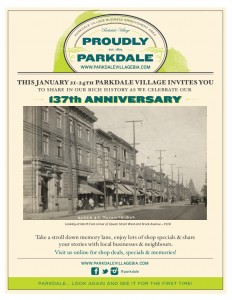 Happy 137th Anniversary Parkdale Village!