The Parkdale Village BIA is delighted for the return of the Lab Cab Festival and Sidewalk Sale on July 26 & 27, 2014.
Lab Cab is an annual, two-day multi-arts festival which includes over
100 shows in 75 venues
along Queen Street West. It is a
 free family event offering a sidewalk sale, music, dance, theatre, film, poetry, kids' stuff, visual art and comedy
performed in restaurants, bars, community centres, boutiques, cafés, parks, library, parking lots, hair salons, flower shops, clothing stores, convenience stores, antique stores and more. Acts range from 2 to 40 minutes, and are performed by seasoned and amateur artists from
2:00pm-8:00pm
throughout the weekend along Queen Street West, starting at Dufferin & ending at Roncesvalles. Founded in 2001, the mandate of Lab Cab (short for "Laboratory Cabaret") is to provide a home for local artists of various disciplines to experiment with new work in a fun and risk-free environment. The first Lab Cab Festival premiered in the fall of 2006 with over 50 arts groups filling every nook and cranny of the Factory Theatre at Adelaide and Bathurst. The Parkdale Village BIA is excited to host Lab Cab for another year as the festival flourishes throughout our neighbourhood, check out last years photos,
click here.
And the best part?
It's FREE.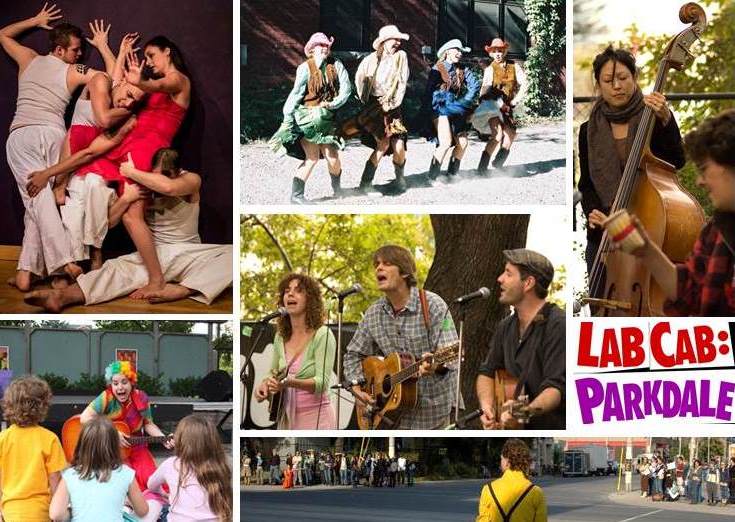 Photo Courtesy of Lab Cab Festival Stay tuned to
http://www.labcab.ca/
for line-up and schedule updates! To volunteer for the festival email us at
director@parkdalevillagebia.com
or contact click 
http://www.labcab.ca/site/support/volunteer/
.