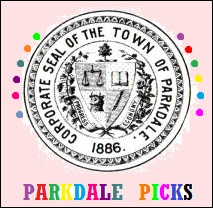 December 8 - 15, 2011
Friday, December 9: The Mascot is hosting its third annual One Less Paper Cup exhibit this Friday at 1267 Queen W from 8 - 12.  A silent auction featuring cup designs by Lauren Pirie, Micheal Ford, Julia Hepburn and so many more exciting artists.  All money raised will go towards Grounds For Health an organization dedicated to the prevention, screening and treatment of cervical cancer in coffee growing communities of Central America and East Africa.  The BIA can personally guarantee that this is an amazing party with wonderful people.
Friday, December 9 - Sunday, December 11: Shopgirls has been gracing Parkdale with its presence for four glorious years, and to celebrate they are throwing a 4th anniversary weekend complete with a balloon pop!  Stop by 1342 Queen West any time from Friday to Sunday to participate in the balloon pop and you can win 10% - 50% off your entire purchase!
Saturday, December 10: Parkdale Jr. and Sr. Public Schools are holding a Holiday Fair at 78 Seaforth Avenue from 10am-1pm.  Sponsored by Buca and The Feather Factory, the fair will have crafts, baked goods, toys, a silent auction, raffle, facepainting, cookie decorating and holiday craft making.
Sunday, December 11: Are the holidays a difficult time for you?  The Parkdale Prana Room at 1273a Queen West is holding a workshop from 1-5 for those of us who find the holidays tough. Participants will share their experience of the holiday season and explore the obstacles that it presents through artwork, dialogue and forms of Gestalt psychology with trained psychotherapists. Cost is $60.  To register contact Luisa at 647.688.2331 or at luisa.de.amaral@gmail.com.