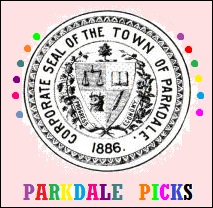 The PVBIA is instituting a new feature on our website called Parkdale Picks - a weekly round-up of events in the best neighbourhood in Toronto.  We will be posting the upcoming week's events every Thursday.  This is by no means a comprehensive listing for our first week, so if you would like to help us build it send us your Parkdale events to info@parkdalevillagebia.com
Thursday, December 1st
Made You Look
is hosting their tenth anniversary party at their two locations on Queen W (by Elm Grove) from 5-10 pm.  Drinks, snacks, mind-reading and a bash for our beautiful local jewellers!  Made You Look Studio and Gallery 1338 Queen W (North Side) Made You Look Accessories 1273 Queen W (South Side).
The Mascot
(1267 Queen W) presents the art opening for
Dave Sheppard
's "The Muse" from 7:30 until 11pm. In what Sheppard calls his "Muse Paintings", he uses  the "spark of enlightenment" metaphor and incorporates light bulbs into the bodies of fish and places candles into the claws of crabs.  This is the Mascot's last show of the year so don't miss it!
Friday, December 2nd
Wrongbar
presents their monthly installment of Big Primpin' - hip hop and hot times for homos, their friends and admirers - on Friday from 10pm - 1am.  This BP is special because it is long time hostess Miss Margot's retirement party.  You don't want to miss her fabulous, final appearance.  1279 Queen W. For the month of December, the
Parkdale Public Library
(1303 Queen W) will be hosting free Friday Movie Nights in the Parkdale Auditorium from 6-8pm.  Sit back, relax and enjoy a movie on the big screen for free!  For more info call 416.393.7686.
Saturday, December 3rd
The Parkdale Community Development Group
is holding its annual Holiday Edition of the Parkdale Bazaar from 11am to 5pm at the Mazaryk-Cowan Community Centre (220 Cowan Avenue - near Queen).  There will be local and indie craftspeople selling their wares, hot chocolate, raffles, and Christmas Carols! 
Sunday, December 4th
The TO Attiwapiskat Crisis Relief Effort
is holding a donation drive on Sunday through Monday at
Xpace Gallery
(58 Ossington Ave - just a few blocks East of Parkdale).  Please bring warm clothing, blankets, non-perishable food items or toiletries between 11am and 7pm. 
Go here
to learn more about the Attawapiskat Crisis.
Monday, December 5th
If you are in grade 8 or 9, come to Mazaryk Cowan CRC at 220 Cowan Avenue for the food program
Youth Corner
, Growing the Future. From 4 to 6 pm participants will work on the Youth Garden signs for Hope Garden, as well as learning to make lasagna with salad and home made croutons in the kitchen!  For more information contact Robyn at robyn@greenestcity.ca.
Wednesday, December 7th
Mazaryk Cowan CRC (220 Cowan Ave) is also hosting a Youth Community Kitchen for youth 15 and up from 5-7:30pm
.
This cooking experience for older youth, will be held on the first and third Wednesday of each month.  No registration required, just drop by the community centre to check it out or contact Robyn at robyn@greenestcity.ca for more info.