The countdown in ON for our
Saturday May 11th
Spring into Parkdale Sidewalk Festival & Night Market
– We're bringing back some of last years favorites!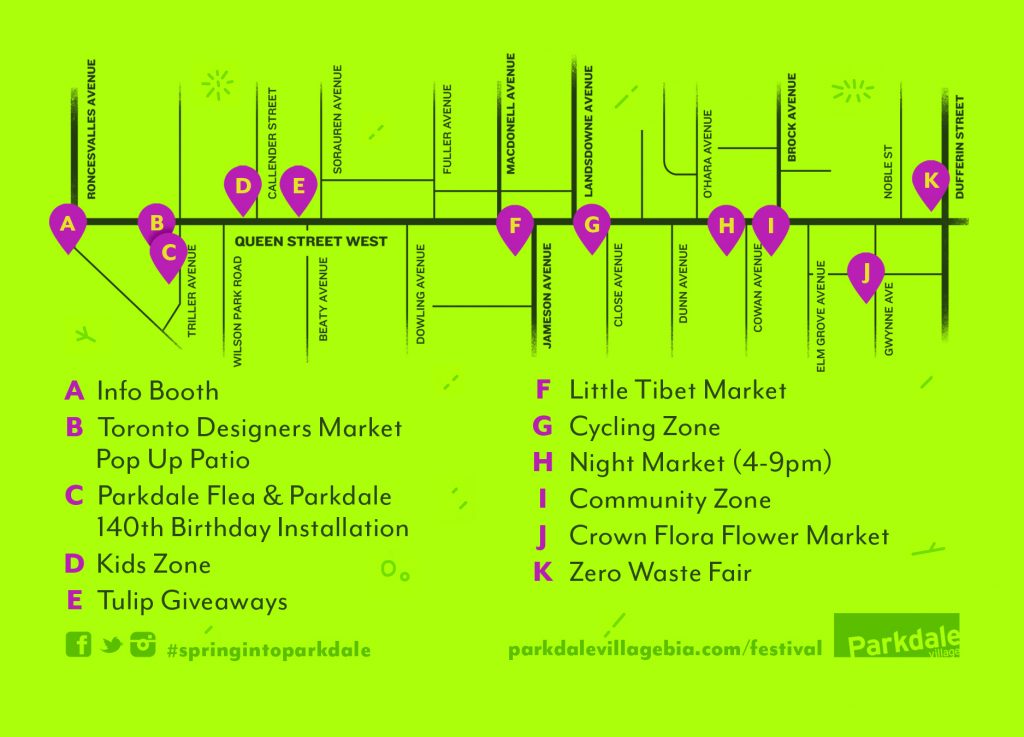 Night Market
(4pm-9pm): With the success of last years Night Market it was clear visitors loved the eclectic tastes of Parkdale Chefs. This years 10,000 sqft food market features more scrumptious food from glorious doughnuts, Filipino BBQ, to Tibetan & Japanese cuisine, patio seating and tunes by DJ Sparkdale! Food can be purchased from individual vendors! (1325 Queen St W @ Cowan).
Tents generously provided by

Roncy Rocks.

The Kids Zone:
Brought to you by
The Boulevard Club,
is a 10,000 sqft free outdoor family play area located at Callender Ave.
(1624 Queen W) Some attractions include:
Smash!:

Grab a tennis racket and check out The Boulevard Club inflatable 'Smash Zone' - how fast can you hit the tennis ball!?   

Roar:

Come meet T-Rex the 7 foot dinosaur!

Magic Gym Bus: Enjoy this 40 foot gymnastics & dance obstacle course!
Say Cheese!: Grab a silly prop and get a photo portrait of your family or crew. All images are free & posted on Facebook after the Festival. 

Mobile Skate park:

Get those kids on some wheels! Learn to skateboard or scooter at the Evolve mobile skate park, equipment and instructors available on site!
DJ Fluffy Soufflé:

Unabashed, unapologetic, and loads of fun, Miss Fluffy Soufflé is sure to keep the whole family entertained and on their feet!

Pirate Life: Join the crew and search for treasure! The pirates have sailed into Toronto and need your help to solve the mysteries and riddles! Climb aboard and partake in the adventure!
The Cycling Zone:
Visit the Cycling Zone where you can get a free bike tune up and learn more about local cycling advocacy groups and projects.
(Close Ave and Queen St West).
The Community Zone:
is a 5,000 sqft road closure located at Cowan Ave and features local groups and agencies doing incredible work within the Parkdale Community – come & support a cause, donate or learn more about getting involved!
(1313 Queen St W @ Cowan).  
The Zero Waste Fair:

Hosted by Zero Waste Hub Toronto features repair, reuse and recycler vendors. (Dufferin Amphitheatre @ Queen St W)

The Little Tibet Market:
Hosted by
Students for a Free Tibet Canada,
invites you to kick off the celebration with a "Sangsol" opening ceremony at 11:00am. Enjoy Tibetan arts & crafts, vendors, music, poetry, a fashion show & more!
Performance schedule coming soon! (1447 Queen St. W @ Jameson)

Parkdale Flea Market:
Browse this special Spring Festival edition of the Parkdale Flea Market at their NEW location, bringing together some of the best and most unique products from Antiques, Vintage, Collectables, Local Artisans and Designers.
(1605 Queen St W @ Triller Ave)
Parkdale's 140th Birthday Installation
: take a photo, grab a loot bag, celebrate Parkdale!
Toronto Designers Market Patio Pop up: Over 3000 sqft  featuring over 30+ designers ranging from furniture and household items to clothing and jewellery, come and explore the indoor & outdoor Patio Market! (1605 Queen St W @ Triller Ave)
Crown Flora Flower Market:
The Floral event of the season returns. Join some of Crown Florals favorite artisan vendors in their indoor market, and shop your heart out at the indoor/outdoor flower market!
 (1233 Queen St. W. @ Gwynne)
Sidewalk Sale:
Browse dozens of local deals, vendors, artisans along Queen West from Roncesvalles to Dufferin! Visit local shops as they offer deals inside and out as well as giveaways or special attractions and entertainment!

Tulip Giveaways:
Head on over to Sorauren Ave & Queen St W for tulip giveaways while quantities last!
Performance Schedule:
Enjoy musical performances at 4 Zones! Schedule coming soon for Community Zone, Kids Zone, Little Tibet Market & Night Market.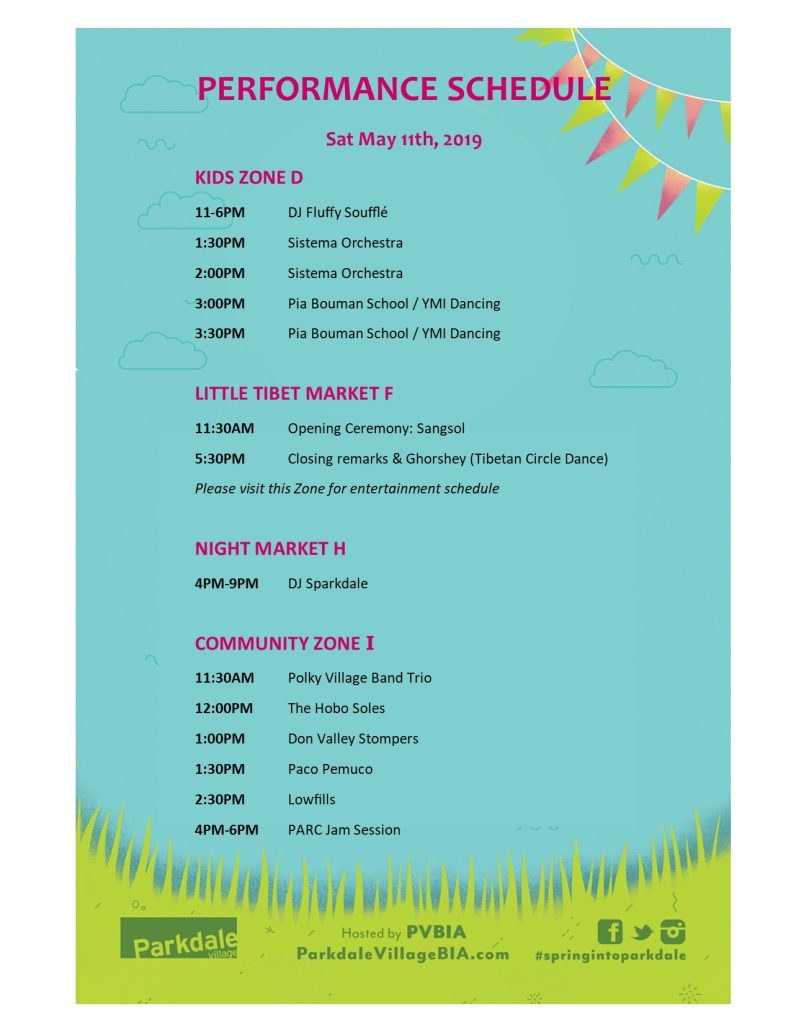 Thank you Sponsors, Partners, BIA Members & Visitors!
The Spring into Parkdale Sidewalk Festival & Night Market is brought to you by the Parkdale Village BIA, 
The Boulevard Club
,
Toronto Parking Authority
, and is in partnership with
Zero Waste Hub Toronto,
Students for a Free Tibet Canada
and
TABIA
. Thank you for your support and commitment to Parkdale Village!