With summer in full swing, the best way to embrace these sunny days is, arguably, dining
al fresco.
Whether you are out with family searching for a meal or grabbing a quick pint with friends, nothing beats relaxing from the heat at some of Toronto's best-decked patios, many of which adorn grand umbrellas, and amazing city views. What's even better, is that you don't need to go far to find them – some of the
best
outdoor patios are here in your own backyard from Dufferin Street to Roncesvalles Avenue in Parkdale Village - come and explore these hidden gems!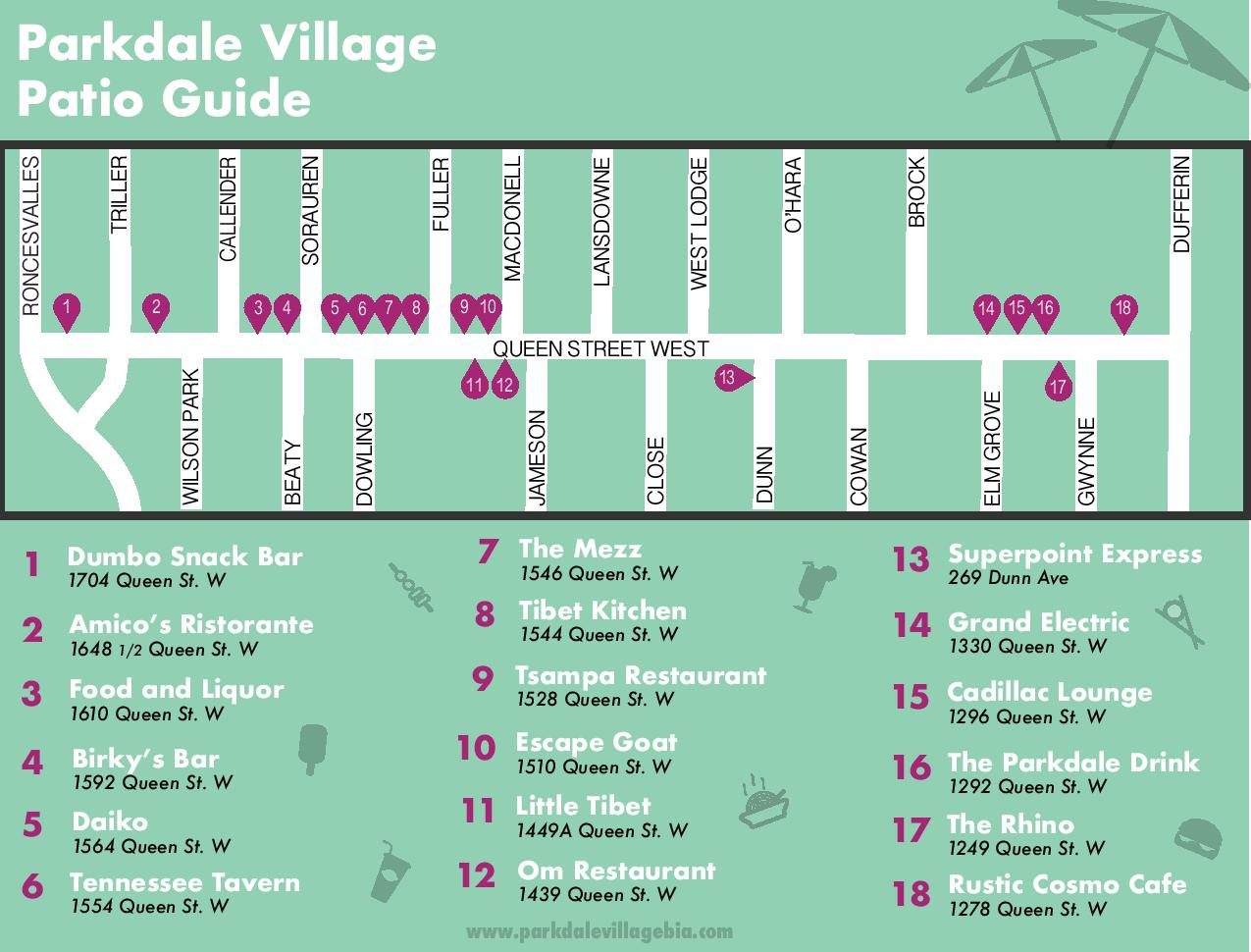 DUMBO SNACK BAR 
New to Parkdale's scene is Dumbo Snack Bar, the perfect place to vibe with friends, grab a cocktail or try a couple of snacks like the mega-trendy avocado toast, chicken sliders and vegan pita + dip. Pro tip: Dumbo is open until 2am Tuesday-Saturday for all you night-owls.
(1704 Queen St. W)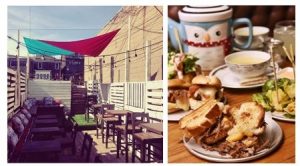 AMICO'S RISTORANTE
Amico's Ristorante does Italian home cooking like no where else! They offer traditionally inspired Italian pizzas, pastas and sandwiches in a cozy, casual, family-friendly restaurant. Enjoy their spacious backyard patio, live music Fridays and 1/2 price pizza Wednesdays! An added bonus- from Thursday to Saturday, they're open late!
(1648 1/2 Queen St. W)

FOOD AND LIQUOR
Meet your go-to neighbourhood bar who happens to be celebrating their 5 year anniversary: Food and Liquor. The bar boasts a unique snack menu consisting of fried tofu chips, apple dumplings, and curry sweet potato balls (plus more)! Their cozy backyard patio, is the perfect place for late night snacking with a kitchen open until 2am with wooden tables and hanging fairy lights. Don't miss out on their "$5 at Five".
(1610 Queen St. W)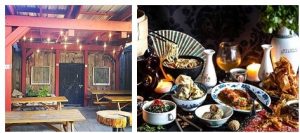 BIRKY'S BAR
Replacing the Yukon Bar, Birky's Bar serves an assortment of wood-fired pizzas and burgers, you can't go wrong! Enjoy a classic Neapolitan-style pizza, a Birky's burger or a large cold one out on their cozy outdoor patio. 
(1592 Queen St. W)

DAIKO  
Specializing in Nepali and Indian cuisine, Daiko is a casual restaurant where food, ambiance and drinks come together! Relax on their quaint front patio and try their amazing Thali dishes, samosas, and momo's with a view of Queen Street West.
(1564 Queen St. W)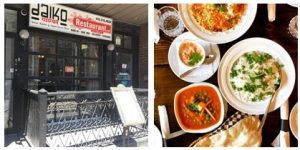 TENNESSEE TAVERN 
The Tennessee Tavern is an Eastern European bar open weekdays from 5pm and 10am on weekends. Their iconic 40-seater patio features a vintage bird cage from Smash, and picnic table booths - perfect for brunch with family or a night out in the town. Alongside their lengthy drink list, some of their must-try dishes are their big pretzel with mustard, pierogis and veal schnitzel.
(1554 Queen St. W)
THE MEZZ
Parkdale's very own rock dive restaurant, The Mezz, oozes a community-like vibe with customers hunkering down for their affordable alcoholic drinks and Guilty Milty (their biggest double patty burger)! Outside, wooden picnic tables, Muskoka chairs and green grape vines make up their patio, the ideal social gathering spot to dine with friends. An added bonus, Tuesdays is "buck-a-shuck"!. 
(1546 Queen St. W)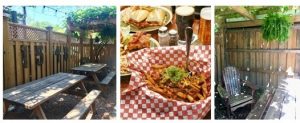 TIBET KITCHEN 
Specializing in Tibetan and Himalayan cuisine, Tibet Kitchen's cozy backyard patio that's draped with string lights, is the place to try popular Tibetan dishes such as momos, chicken chilli and phingsha. In addition to Tibetan delicacies, their menu is vegetarian friendly and includes other Asian favourites like spring rolls, chowmein and spicy lunch specials. (1544 Queen St. W)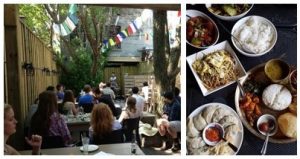 TSAMPA RESTAURANT
Tsampa Restaurant is a Tibetan family-owned business serving Asian, Himalayan and Tibetan cuisine here in Parkdale for over 11 years! Try their beef fried momos, veggie curry and chicken thali on their cozy patio decorated with Tibetan prayer flags. 
(1528 Queen St. W)

ESCAPE GOAT 
Escape Goat is Parkdale's craft beer bar, with a backyard patio lit with fairy lights and pastel yellow surroundings. Check out their current tap list featuring beers from Toronto microbreweries like the Bellwoods, Blood Brothers, Rainhard and Kensington. While tasting some of Toronto's finest beers, grab some of Escape Goat's delicious homemade bar food. $5 deep-fried pickles anyone?
(1510 Queen St. W)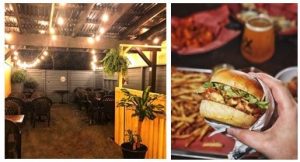 LITTLE TIBET 

- OPENED JULY 6TH!
Join the community in welcoming Parkdale's newest Tibetan restaurant: Little Tibet. Serving delicious Hakka and Tibetan dishes, take a shot at their chili chicken and beef on their new front patio facing Queen Street West. An added plus, it is totally Instagram-worthy with an aesthetic green grass wall and Tibetan prayer flags! (1439 Queen St. W)

OM RESTAURANT
Tucked away under a canopy of neighboring trees, Om Restaurant's south-facing patio is a spacious gathering spot to taste their authentic Tibetan and Indian dishes (halal and vegetarian friendly). All of which include delicious momos, curry and large $8 adult lunch specials or $6 for students. (1330 Queen St. W)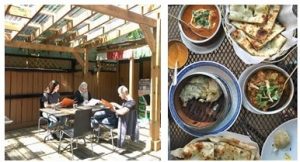 SUPERPOINT EXPRESS
This low-key pizzeria off of Queen St. W on Dunn Ave, offers a variety of scrumptious thin-crust pies. Have a taste of their hawaiian, capicollo or kale & gorgonzola pies on Superpoint's newly built side patio!
(269 Dunn Ave)

GRAND ELECTRIC
Grand Electric is a hip, taqueria joint dishing out some of Parkdale's best baja fish tacos, pork carnitas and guac + chips. Come out to relax and socialize on their cozy backyard patio which boasts a bar and communal picnic tables, what's not to love! (1449A Queen St. W).

CADILLAC LOUNGE
A low-key, live music haven, The Cadillac Lounge, boasts a large 200 seat backyard patio resembling a trendy cottage-country deck, half covered to provide shade on bright, sunny days! Join the Caddy on their exclusive backyard patio stage for occasional karaoke nights and classic comfort food. (1296 Queen St. W)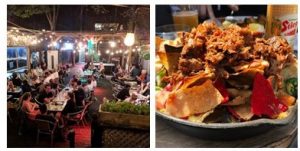 THE PARKDALE DRINK
As Parkdale's resident neighbourhood dance party hub, the Parkdale Drink is the spot for a fun night out. Dimly lit, their large modern backyard patio is a swanky setting to experience global fare and endless drink options with a DJ spinning tunes just steps away. (1292 Queen St. W)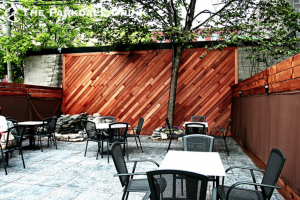 THE RHINO BAR
A destination for the world's finest beers, The Rhino, has got you covered on those hot, summer days with their hefty assortment of beverages. Try their southern fried chicken or sausage penne on the 

largest 

side patio in Parkdale in a sea of iconic orange seats, the perfect place for people watching. (1249 Queen St. W)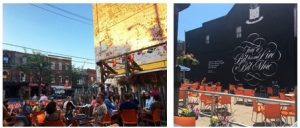 RUSTIC COSMO CAFE 
A Parkdale staple since 1995, the Rustic Cosmo Café is not only famous for their cow-in-a-martini-glass logo but also for their delicious sandwiches, gigantic breakfast plates and friendly, familiar faces. This gem of a café has a quaint backyard patio, perfect for reading and relaxation while sipping a fruity beverage. (1278 Queen St. W)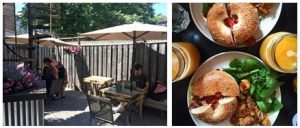 Photo Credits:
@dumbosnackbar, @amicospizzato, @lisa__riedel, @cadillaclounge, @elana.simone, @fitgrrrljourneyj, @alessandra.elizabethh, @hipster_bachelor_pad, @brunasofiasimoes, @mllelford, @amicospizzato, @geenaweena, @saratarnai, @tibetkitchen.ca, @escape_goat.to, @blogto, @foodandliquorto, @tennesseetavern, @daiko1564, 
@allons.y, @chengjie.sun, @forkinhungry, @superpointexpress