The PVBIA broke ground this week for Phase II of the pedestrian lighting project. The installation of 8 additional pedestrian light poles is part of the ongoing Capital Design Strategy for the Parkdale Village BIA along Queen Street West from Roncesvalles Avenue to Dufferin Street. Although Queen Street West has vehicular lighting, there was no pedestrian lighting within the BIA leaving the streets dark in the evening. Pedestrian lighting was a priority within the capital design project as functional lighting along a main street creates safer streets and ties the neighbourhood together, while attractive design ads to the aesthetic, two basic components of a good streetscape design. The project will continue to create safer walking and meeting spaces and will add a total of 21 decorative light poles within the Parkdale Village BIA by Spring 2013.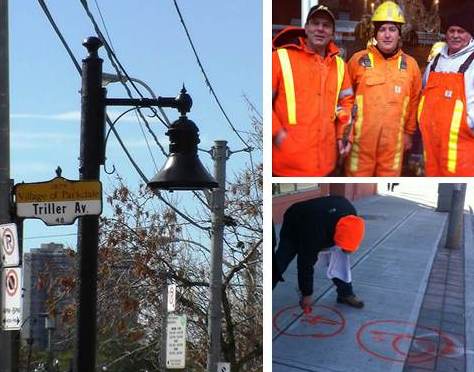 The additional Phase II lighting will be installed within the following areas;
Queen St. W., east of Roncesvalles Ave
Queen St. W., south of MacDonell Ave
Queen St. W., south of Brock Ave
Queen St. W., east of Gwynne Ave
For further details or inquiries about the project, please contact the Parkdale Village BIA at 416-536-6918. We thank all of our partners, residents and businesses for their patience as we work to improve our BIA through Streetscape initiatives such as this one.