Lofty Artists Remembered
[caption id="attachment_105" align="alignright" width="300" caption="From left: Charles Ketchabaw, Andy McKim and Lisa Marie DiLiberto.  (photo fromAaron Lynett / National Post  "]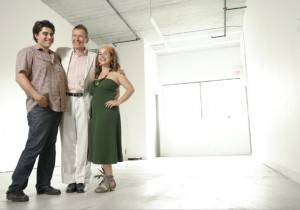 [/caption]
Inspired by a neighbourhood made famous by the art movements and media moguls who shaped it over the last 30 years, The Tale of a Town – Queen West is a site-specific theatrical journey that celebrates the history of this legendary strip .  Based on countless interviews with local icons, artists and entrepreneurs, this trip through time takes off "outside the walls" of Theatre Passe Muraille.  The audience is led on a promenade-style theatrical tour of Queen West by a fictional condo developer, passing by the controversial Loblaws big box development (which coincidentally opens to the public on the same day as this production), and ending up inside the imaginary Champagne Flaming Feather Eco Boho Legend Lofts.  The story unfolds in these imagined lofts, which are actually located on the top floor of the new Duke's Cycle building, recently constructed on the site of the massive fire which destroyed a handful of independent Queen West businesses only three years ago.
The
Legend Lofts
replicate iconic locales by turning them into model condo suites with names like The Rivoli Retreat Room, The Cameron Penthouse, The Handsome Ned Nook and Jane's Place – a model of a vintage clothing store destroyed in the fire.  These condo designs become the playground for our protagonist Jane as she flashes back through her life on Queen West, beginning in the 80's.  Memories of riding the Spadina Bus, bar-hopping with Handsome Ned, sexually explicit Performance Art shows busted by the morality police, and the overnight commercialization of the strip (following City TV's arrival) are just a few of the blasts from the past within this inter-disciplinary extravaganza.  Accented by a track of original Queen West music, archival video and photo projections, audio documentaries and rounded out by a pair of live musicians, The Tale of a Town – Queen West twists and turns through over 6000 square feet of re-designed space. Back by popular demand after a sell-out run last spring as part of the "beyond the walls" initiative, TPM is thrilled to open their 2011 season with this newly envisioned
The Tale of a Town – Queen
West
as a co-production with
FIXT POINT
.
Named the "Queen Mother" by NOW Magazine, this production is led by the artistic vision of Lisa Marie DiLiberto, TPM's newest playwright-in-residence. The play is directed by Varrick Grimes, who has received international recognition for his work in promenade theatre and is currently a resident artist at The Stratford Theatre Festival, audio and video design is by Charles Ketchabaw, (CBC Radio, National Lampoon), and musical direction by Juno-Nominated Treasa Levasseur, lighting by Michelle Ramsay (seven Dora nominations), set and costumes by Lindsay Anne Black (Harold Award, three Dora nominations) and projection design by Trevor Schwellnus (two Dora awards).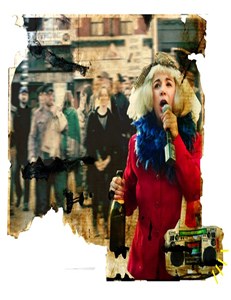 The Tale of a Town is a series of plays created by FIXT POINT, which was developed in Parkdale in 2008 and has since been produced in downtown St. Catharines and in Toronto's Corktown.  Upcoming The Tale of a Town will be touring across Canada animating neighbourhoods through site-specific documentary theatre.
Previews September 14 , opens September 15, runs to October 9
Begins at Theatre Passe Muraille Mainspace, 16 Ryerson Ave (NE of Queen and Bathurst)
http://passemuraille.on.ca/shows/fall2011/taleofatown/
Performances:
Tuesday-Sunday 7:30pm
For Ticket Information:
Arts Box Office 416.504.7529 or at The Arts Box Office located at 16 Ryerson Avenue is open Tuesday-Saturday from 12:00pm - 6:00pm and one hour before the show. Or 24 hours a day online:
www.passemuraille.on.ca