The Parkdale Village BIA would like to extend warm thanks to all businesses and community partners for their participation in the 2nd year of the Parkdale Then & Now Festival. On Saturday, July 23rd, 
Parkdale Then & Now raised just under $5,000 for the Parkdale Community Food Bank!
We couldn't have done if without the support of the Parkdale community and all of you who were out and enjoying the beautiful weather, fantastic entertainment, and wonderful events Parkdale Then & Now had to offer this year. This year's Parkdale Then & Now Festival saw the setting up of seven performance zones throughout the neighbourhood all sun-filled day long.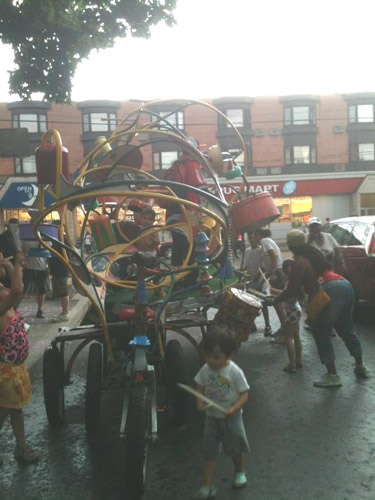 Fuller Avenue's Kid Zone
was hopping (literally!) as children enjoyed the bouncy castle and trying out their musical talent on the 
Seussmobile (pictured),
a percussional bicycle built and provided by local Parkdalian Phil Sarazan.
Boreal Gelato Company
being on hand with cool treats for the kids and adults sure helped with keeping Fuller busy and fun!
On Dry Land - A Seaworthy Skateboarding Installation
put on by the 
Bait Shop
at Dowling Avenue was rocking all day long with live local talent, including 
Octobre's Ending
, and Shuggie and the Bandits (view a video of their performance 
HERE
). Visitors to the 
Parkdale Summer Market
over on Elm Grove were serenaded by wonderful acoustic sets including performances by locals 
Carlin Belof
, 
Harrison Fine
, Treva Bondarenko, and 
Graham Cavalier.
Triller Avenue
and
O'Hara Avenue
were also in on the Parkdale Then & Now festivities, with performances by 
The Gypsy Rebels
, 
Horses Won
, 
Parillegal
and others livening up the streets.  
Dufferin Amphitheatre
is well on its way to proving it makes for a great venue in its second event since its opening; we were happy to see 
West End Food Coop
, 
Greenest City
, and 
Exhibit Change
(pictured) spreading the word on their community projects while spectacular performances were delivered by 
Vibonics,
Zuviri
, 
Hey Amy
and many more!  Parkdale Then & Now 2011 rocked the streets of Parkdale, thanks to you!
For more photos of the event and a full roster of bands and artists that participated, check us out on facebook: Parkdale Village
If you have any photos you'd like to add to our collection, please send them along! We'd love to see them! info@parkdalevillagebia.com