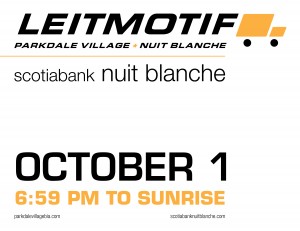 LUKE PAINTER |
www.lukepainter.ca
Restless
uses projection and 3D animation in order to touch on the often stressful and tiring act of moving furniture and create a space that places these home furnishings in a virtual limbo. Visitors to
Restless
will stand at the back of a moving truck and peer into the space, seeing a number of home furnishings and boxes hover ever so slightly in the air; never fully coming into contact with the ground.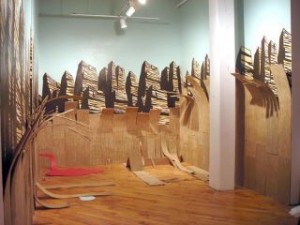 Painter is an artist and educator living and working in Toronto. Recent exhibitions of his work include:
Revivalesque
at the Elora Centre for the Arts and
Revival-esque
at Angell Gallery in Toronto. He is represented by Bonneau-Samames Art Contemporain in Marseille, France.
TAMARA PLATISA + SASA RAJSIC |
www.tamaraplatisa.com
|  
www.sasarajsic.com
103°52'74"N   103°70'41"WE
represents the sum of the longitudes and latitudes of Toronto, Canada and Helsinki, Finland. Platiša will be performing in Toronto and Rajšić will be located in Helsinki. They will engage in a Skype conversation and project each other's images on a blank wall. They will begin to paint each other's portraits until an external factor prevents them from continuing. The images Platiša & Rajšić will create are personal and a reflection of their physical location, movements on the projection and the quality of their Internet connections. In an exchange of lines on a wall they will make the intangible, tangible. Platiša and Rajšić originate from a country with a turbulent history whose borders were regularly redrawn before it ceased to exist. They grew up in Yugoslavia at the end of the socialist era, during the civil war of the 1990s.  Toronto based artists with a BFA in Sculpture & Installation from OCAD University.  The work examines the relativity of proximity and distance in terms of their own communication in installation, performative and video format. The collaborative duo look to their shared tangible and intangible personal histories of Yugoslavia and the non-existence or disappearance of places, of residence and therefore of home, together re-examining the "everyday" as a space, where collapse and recovery occur simultaneously as well as in succession.
QUALITY SLIPPERS PRODUCTIONS |
www.qualityslippers.ca
Infinity in the Palm of your Hand
is a brief history of the world in a timed performance project that attempts to capture the entirety of human history over the period of the 12 hours of Scotiabank Nuit Blanche. The show will open on a void. By midnight - a glimpse of our first life on the planet, and at 2 am - complex organisms emerge.  Between 2 am and dawn we see the development of prehistoric animals like dinosaurs, and in the final fifteen minutes of the event, humans appear, civilizations rise and fall, and we are left to meditate on the fleeting nature of it all. This piece will aslso include a live performance and serenade by Toronto based singer-songwriter Joey O'Neil. Quality Slippers Productions, led by Artistic Director bekky O'Neil, creates and produces original theatrical pieces with a focus on experimental puppetry forms for adult audiences. Exploring narrative structure, unconventional storytelling, and the histories that connect us the group aims to reanimate the historic genre into a new contemporary practice. O'Neil holds a BFA in Playwriting from Concordia University and has apprenticed with Peter Schumann at the legendary Bread & Puppet Theater in Glover, Vermont. Recently her soft-sculpture and collage work was featured at the inaugural Visual Fringe in Toronto.  Her newest play, "Exit, pursued by a bear" premiered at the 2011 SummerWorks Festival.  Past works have also been featured at Nuit Blanche Montreal, The Art Matters Festival, Pop Montreal, The Montreal Fringe and the International Toy Theatre Festival in NYC. ###
LEITMOTIF on Facebook [Leitmotif | Scotiabank Nuit Blanche]
LEITMOTIF on twitter
[Leitmotif2011]
Thank you to the Ontario Arts Council for their support of LEITMOTIF
LEITMOTIF is possible with good spirited collaborative support by Advantage Car & Truck Rentals – www.advantagecarrentals.com
LEITMOTIF is also appreciative of the support we are receiving from the following community sponsors:
Advantage Car & Truck Rentals, Barton Floor Coverings, Belle Optical, Brock Carpet, Capital Espresso, City of Toronto Public Library – Parkdale Branch, Common Sort, Free Radio Berkeley, Future Cinema Lab at York University, Gladstone Café, The Gladstone Hotel, Hope Neon, Ltd., Imagine8, Ingrid Mueller Art + Concepts, Mangez, Mascot Café, Misfit Studio, São Paulo Biennial Foundation, OCADU, PARC, Parkdale Village BIA, Public Butter, Queen West Antique Centre, Queen West Subscape Inc, Rhino, Shop Girls, Studio Brilliante, Toronto Public Space Initiative, The Workroom and the spirited community of Parkdale Village.