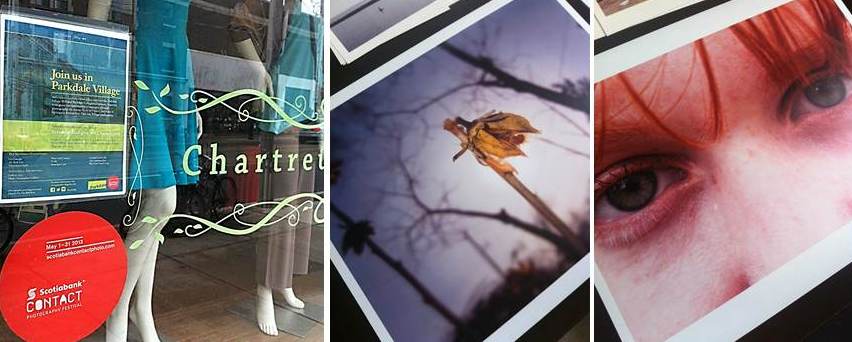 Media Release
CONTACT Photography Festival & Parkdale Village BIA 
- The Parkdale Village BIA invites visitors to explore an exhibition of student work within nine venues along Queen Street West May 4th from 6:00pm -
Parkdale, Toronto, Ontario (May 1, 2013)
The Parkdale Village BIA is delighted to present the photographic work of over thirty Parkdale Collegiate Institute students at the 2013 Scotiabank CONTACT Photography Festival. In a collaborative effort between the Parkdale Village BIA, PCI and under the mentorship of artist Jonathan Groeneweg, students were asked to interpret through photography the theme 'Field of Vision', and what it represents within their community. Over the course of six weeks and with the guidance of PCI teachers, the students had the opportunity to use point and shoot as well as digital cameras; they learned the principles and history of photography, and a new element to this year's project included introducing PCI students to guest speakers, such as camera collectors and artists who shared their photographic work and inspiration. Their results will be displayed throughout May within nine Parkdale Village venues along Queen Street West from Roncesvalles Avenue to Dufferin Street, they include; Go Lounge (1718 Queen St. W.), My Roll Life (1714 Queen St. W.), Chartreuse Style (1692 Queen St. W.), West End Comics (1590 Queen St. W.), Parkdale Activity – Recreation Centre (1499 Queen St. W.), Boutique Café (1542 Queen St. W.), Ground Level Café (1496 Queen St. W.), Common Sort (1414 Queen St. W.), West End Food Coop 91229 Queen St. W.).
Visitors are encouraged to explore Parkdale Village Saturday May 4th from 6:00pm to kick off the Festival and celebrate the student's achievements by visiting all the exhibits!
Additionally, we encourage you to discover the other exhibits within Parkdale Village throughout May, including Mark Christopher Gallery (1594 Queen St. W.), Gallery 1313 (1313 Queen St. W.), Shopgirls Gallery Boutique (1342 Queen St. W.), Goodfellas Gallery (1266 Queen St. W.), & Parkdale Community Health Centre (1229 Queen St. W.). A special thank you to The Baitshop for generously printing the photographs.
For Inquiries:
director@parkdalevillagebia.com
    416.536.6918