The countdown in ON for our
Saturday May 12th
Spring into Parkdale Sidewalk Festival & Night Market
– We're bringing back some of last years favorites and launching a few new attractions!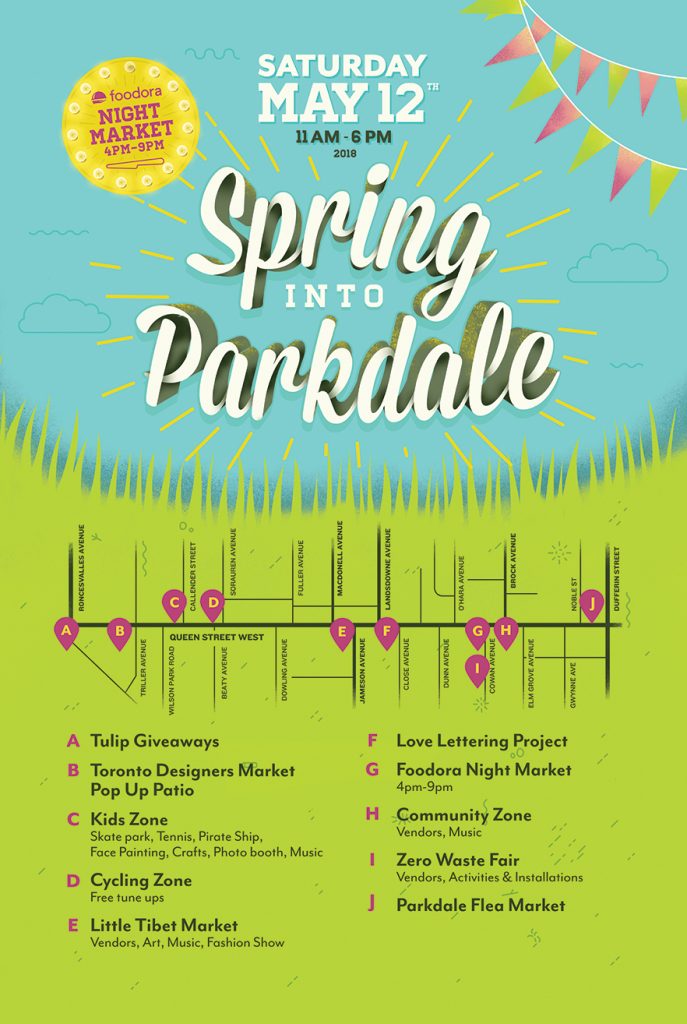 Foodora Night Market
(4pm-9pm): With the success of last years Foodora Night Market it was clear visitors loved the eclectic tastes of Parkdale Chefs. This years 10,000 sqft food market features more scrumptious food from glorious doughnuts, Filipino BBQ, to Tibetan & Japanese cuisine, patio seating and tunes by DJ Sparkdale! Food can be purchased from individual vendors. *Receive a $10 Foodora Voucher with your purchase (*
first time Foodora customers)
and don't forget to fill out a Ballot & win $200 towards your favorite Parkdale Restaurant!. (1325 Queen St W @ Cowan).
Tents generously provided by

Roncy Rocks.

The Kids Zone:
Brought to you by
The Boulevard Club,
is a 10,000 sqft free outdoor family play area located at Callender Ave featuring
free crafts, face painting 
& so much more!
(1624 Queen W):
Smash!:

Grab a tennis racket and check out The Boulevard Club inflatable 'Smash Zone' - how fast can you hit the tennis ball!?   
Say Cheese!: Grab a silly prop and let photographer Becca Gilgan snap a photo portrait of your family or crew. All images are free & posted on Facebook after the Festival. 

Mobile Skate park:

Get those kids on some wheels! Learn to skateboard or scooter at the Evolve mobile skate park, equipment and instructors available on site!
DJ Fluffy Soufflé:

Unabashed, unapologetic, and loads of fun, Miss Fluffy Soufflé is sure to keep the whole family entertained and on their feet!

Pirate Life: Join the crew and search for treasure! The pirates have sailed into Toronto and need your help to solve the mysteries and riddles! Climb aboard and partake in the adventure!

Chaulk in up!

L

e

ave your mark on Parkdale with Parkdale-based visual artist Bareket Kezwer as she invites you to share what makes you happy in her interactive chalk installation – come out and take part in her ongoing project #365daysofsmile 
The Cycling Zone:
Visit the Cycling Zone where you can get a free bike tune up and learn more about local cycling advocacy groups and projects. This is a side road closure located next to the Kids Zone
(1624 Queen St W @ Callender).
The Community Zone:
Brought to you by
Adam Helps,
 is a 5,000 sqft road closure located at Cowan Ave and features local groups and agencies doing incredible work within the Parkdale Community – come & support a cause, spin to win, donate or learn more about getting involved!
(1313 Queen St W @ Cowan). 
Music to our Ears:
Enjoy a mix of musical genres from Jazz to folk, there's something for every music lover!
Performance schedule coming soon! (Community Zone)

The Zero Waste Fair:
Hosted by
Zero Waste Hub Toronto 
features repair, reuse, recyclers, DIY interactive activity stations, workshops, waste/eco educators / activists, and an interactive plastic litter/waste art installation. Vendors will be located around the Parkdale Library, down Cowan Avenue and in Masaryk-Cowan Park.
(220 Cowan @ Queen St W)

The Little Tibet Market:
Hosted by
Students for a Free Tibet Canada,
invites you to kick off the celebration with a "Sangsol" opening ceremony and enjoy Tibetan arts & crafts, vendors, music, poetry, a fashion show & more!
Performance schedule coming soon! (1447 Queen St. W @ Jameson)
Love Lettering Project:
A community art project that asks people to write anonymous love letters to the places they live, then hang these love notes for strangers to find, spreading the Parkdale Love! (1375 Queen St W @ Close Ave)

Parkdale Flea Market:
Browse this special Spring Festival edition of the Parkdale Flea Market, bringing together some of the best and most unique products from Antiques, Vintage, Collectables, Local Artisans and Designers.
This bigger then ever Flea starts at the Dufferin Amphitheatre and weaves all the way down Noble Street
(
1266 Queen St W @ Noble).
Toronto Designers Market Patio Pop up: Over 3000 sqft  featuring over 30+ designers ranging from furniture and household items to clothing and jewellery, come and explore the indoor & outdoor Patio Market! (1605 Queen St W)
Sidewalk Sale:
Browse dozens of local deals, vendors, artisans along Queen West from Roncesvalles to Dufferin! Visit local shops as they offer deals inside and out as well as giveaways or special attractions and entertainment!

Tulips Giveaways:
Head on over to our Festival info booth at Roncesvalles & Queen St W, grab a Festival Map and free tulips!
(1 potted tulip per person, till quantities last)
Performance Schedule:
Enjoy musical performances at 4 Zones!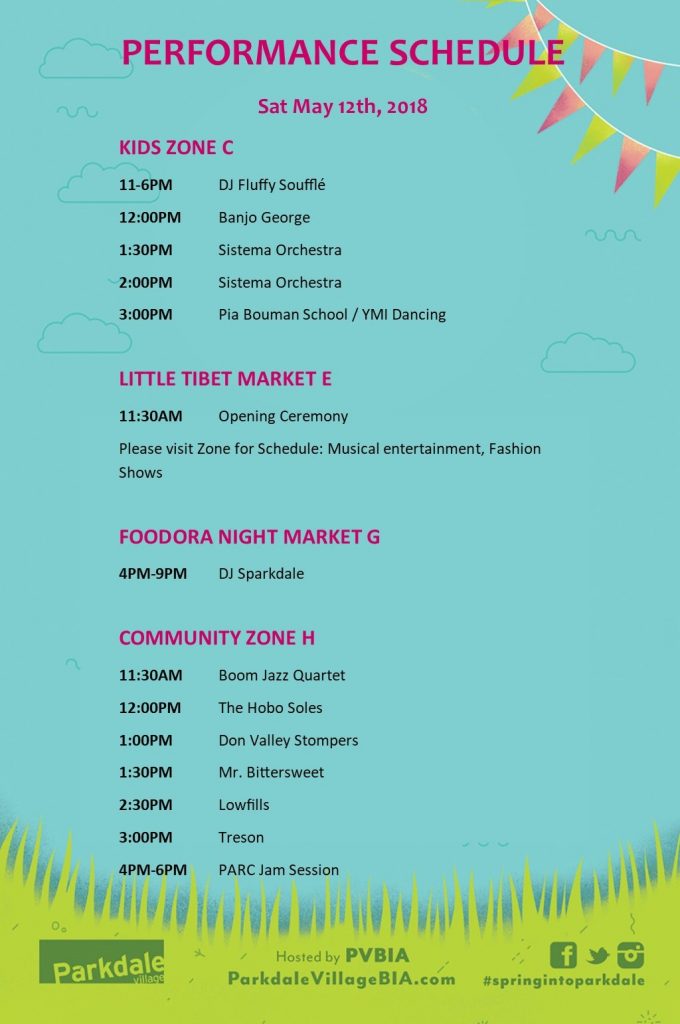 Thank you Sponsors, Partners, BIA Members & Visitors!
The Spring into Parkdale Sidewalk Festival & Night Market is brought to you by the Parkdale Village BIA,
Foodora
, 
The Boulevard Club
,
Adam Helps
,
Toronto Parking Authority
, and is in partnership with
Zero Waste Hub Toronto,
Students for a Free Tibet Canada
and
TABIA
. Thank you for your support and commitment to Parkdale Village!