Everyone loves a good deal and getting a bang for their buck. But it's a tricky task with over-priced grocery stores and specialty clothing boutiques popping up left, right and centre in Toronto. That's why we've curated a collection of Parkdale stores along with bargain hunting tips so you can find affordable groceries, everyday essentials and restaurants without cashing in your entire pay cheque.
CLOTHING

Shop for all things fashion from shoes, accessories, clothing and outerwear at these value driven stores. Go ahead and shop to your hearts content!
Common Sort
(1414 Queen St. W.)
Bring in clean, fashionable and excellent condition items to be priced and get 50% of that value as in store credit or as 25% in cash. They even offer free styling services when you fill out your fashion preferences 
here
!
The Salvation Army Thrift Store
(1447 Queen St. W.)
Great for clothing and inexpensive children's books and toys. Donate items in-store for a $10 off your purchase coupon and there's no HST on clothing and household items!
Top Brands for Less
(1470 Queen St. W.)
Find new, brand name clothing, bags and shoes at deep discounted prices.
TIPS
• Don't shop on Saturday or Sunday. Everyone is out shopping and the inventory will be over-picked. Shop the middle of the week for the best finds! • Sign up for email alerts or follow social media to receive exclusive deals, sale notifications and coupons.
GROCERIES & EVERYDAY BASICS

Groceries are an expense we can't avoid completely but luckily it's one we can control. Get cleaning supplies, this week's groceries, and household goods for a fraction of box store prices.
Budget One Stop
(1281 Queen St. W.)
Dollarama
(1337 Queen St. W.)
Fullworth
(1371 Queen St. W.)
TIPS
• Try asking for a rain check. If a sale item is out of stock, you will be entitled its sale price when it's back in stock. • Don't pay for convenience; avoid individually packaged, cut or peeled foods. Instead, cut fruits or package cookies once you get home. • Check expiry dates. Grocery stores rotate stock by pushing forward older merch. Grab from the back of fridges and shelves to bring home the freshest items.
FRUIT & VEGGIES

Get the freshest in-season fruits and veggies from Parkdale supermarkets most of which are at great bundle prices!
Queen Fresh Market
(1384 Queen St. W.)
Queen Supermarket Indian & Canadian Groceries
(1429-31-33 Queen St. W.)
Super Land Market 
(1400 Queen St. W.)
TIPS
• Know which produce is in season. Shop and plan meals around seasonal produce, to avoid paying higher prices for imported goods.
BREAKFAST & LUNCH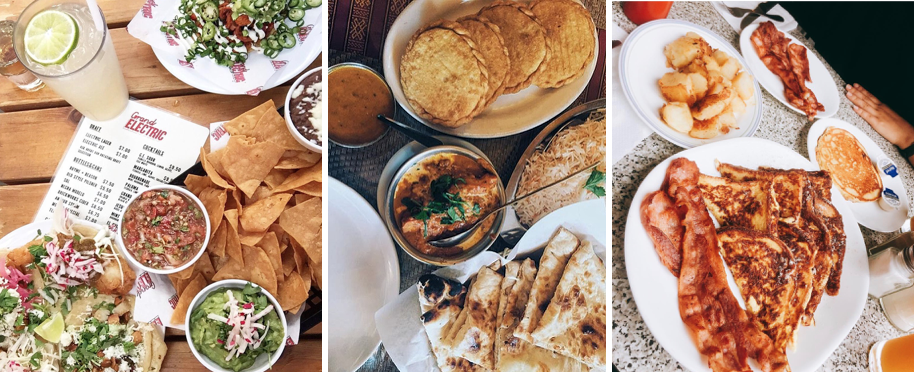 Start your day off right or get your lunch time fix at these delicious Parkdale eateries.
Glory of India
(1407 Queen St. W.)
$7 Lunch Special from 11am-2pm
Grand Electric
(1330 Queen St. W.)
$4.45 Individual Tacos
Gyro Bar! Souvlaki Kitchen
(1647 Queen St. W.)
Gyros & Souvlaki Pita Wraps under $6.95 Pork Souvlaki Sticks for $2.95 each
Om Restaurant
(1439 Queen St. W.)
Lunch Special Tuesday-Friday from 11am-1pm only $6 for students and $8 for adults
Pete's Corner Grill
(1582 Queen St. W.)
Breakfast Sandwiches under $5.49
The Mezz
(1546 Queen St. W.)
$4 Taco Tuesday, $10 1lb Wings Wednesday
DINNER

Tired of eating home cooked meals? Try one of these restaurants that won't break the bank!
Amico's Pizza
(1648 1/2 Queen St. W.)
Kids eat Free, ½ Price Pizza Wednesday
Loga's Corner Momo Takeout
(216 Close Ave. Suite A-C)
$7 Beef, Chicken or Veggie Momos
Subway Restaurant
(1395 Queen St. W.)
Sub of the Day $4.39
Superpoint Express
(269 Dunn Ave.)
Jumbo Slice + Pint Deal $8.99
Tennessee Tavern
(1554 Queen St. W.)
$5.95 Sunday AYCE Pierogis after 6pm
TIPS
• Skip purchasing beverages with your food. Replace pop, coffee & tea with non-bottled water to save $2-$3 per person! • Dine-in on Monday or Tuesday. These days are usually the slowest for restaurants, so take advantage of any specials. ____ Photo Credits: @commonsort, @grandelectricrestaurants, @daiko1564, @allons.y, @tennesseetavern, @subway Sources: •
12 Hacks To Save Serious Money on Groceries
•
Save Money on Restaurants
Last Updated: Saturday August 18th