Hit television series shoots latest episode in Captain's Treasures Antiques thanks to Parkdale resident and producer, Allegra Hill
By:
Carolyn Grisold
When Allegra Hill, local Parkdale resident and production manager of History channel hit
Canadian Pickers
, needed a location for a picking challenge, she looked no further than her own backyard. "We wanted to find a location where [hosts Scott Cozens and Sheldon Smithens] would really need to do some digging," says Hill.  The team settled on
Captain's Treasures Antiques
at 1424 Queen Street West; the shop stood out because of its sheer volume of items. "Captain's Treasures Antiques allowed us to create the feeling we were looking for," she says. "It was all about the hunt on this shoot, so we needed the guys to be able to do some rooting around."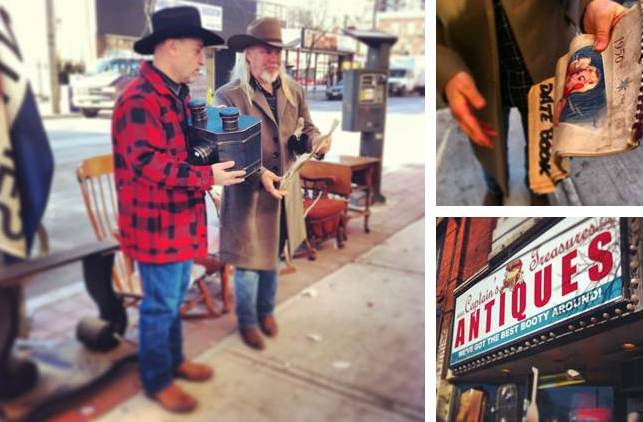 Canadian Pickers
is known for digging out a deal or two; stumbling onto a lucky find in flea markets, warehouses, basements or yard sales is like discovering a masterpiece. With a degree in art history from Queen's University, Hill herself "fell into" a television career that's so far spanned eight years. "TV was an unlikely career path for me and I haven't looked back." She's now been a part of the
Canadian Pickers
production team for two seasons; the show is currently shooting its fourth. "The characters that Scott and Sheldon meet along the way are central to the episodes," says Hill, adding that
Canadian Pickers
differs from its American counterpart in the sense that the landscape functions as an additional character. The show prides itself on highlighting Canada's diverse geography, culture and people. "
Canadian Pickers
does its best to explore that for its viewers," she says. And where better to look for multiculturalism than in Toronto's Parkdale neighbourhood? Hill has called it home for the past year and a half. "I was living on Gladstone for seven years [before] I crossed over Dufferin into Parkdale." It was the area's eclectic mix of businesses and residents that drew her here. "I love the mix of old and new," she says. "I love the variety of Parkdale. I truly have everything I need within blocks of my home. I am a bargain hunter by nature and there are many great deals to be found." Captain's Treasures Antiques is definitely a local bargain hunter's paradise, and its owners Captain Errol Boyd and wife Joan have been in the antiques business for almost 35 years. Their entrepreneurial ventures have seen quite a few location changes over the years: from St. Catharine's to Eglinton West, Queen and Roncesvalles, Weston Road, and even Ottawa Street in Hamilton. Their current flagship location is now run by the Captain's daughter, Lisa Boyd, who is also a home staging professional and realtor.       "I had a lot of fun," says Boyd when asked what it was like having a national television program filmed in her store. "The guys were great, however they kicked the Captain out of his own shop because there were so many people [inside] and he didn't want to be on camera." But he was okay, she says. "He wanted his First Mate to take care of [the crew]." Although their current Queen Street store only opened this past December, Boyd is not new to Parkdale and has been active in the community for years. She has used her voice to support initiatives such as changing the direction of the streets to reduce prostitution, fight badly-behaving bars and rally to get parking times changed for directional traffic. This endeavour helped their Queen and Roncesvalles location at the time. Since then, she has noticed an increase in young families, young couples and women shopping on a regular basis. It's effort like this that's helping to improve the area in countless ways. Hill agrees. "Parkdale is definitely becoming more gentrified," she says. "It is great to have fantastic restaurants, clothing stores and cafes at my doorstep, but also have a discount store all on the same block. I hope that it is possible to maintain that balance." One thing's for sure: the neighbourhood is definitely a treasure.
Canadian Pickers
airs Mondays at 8pm on the History channel. To learn more about the show, please visit
http://www.cineflixproductions.com/
. To find "The Best Booty Around," don't forget to stop by 1424 Queen Street West or visit
http://www.captainstreasures.biz/