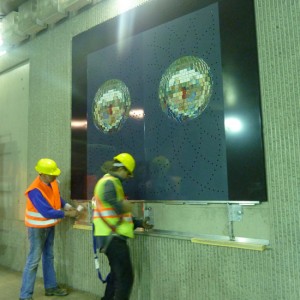 "Three years in the making, Jacob's
Spirits of the Grotto
consists of 34 large metal panels, each bearing a pair of mosaic tile discs representing eyes. Arranged within the underpass like heroes in a Hall of Fame,
Spirits of the Grotto
turns an otherwise dull transport corridor into a vibrant passageway."
Dufferin Underpass Public Art Installation
Luis Jacob – Spirits of the Grotto
City of Toronto Dedication Event
Date:
Friday, May 18
Time:
5:00 – 5:30 pm
Place:
Dufferin Amphitheatre (parkette), 1266 Queen Street West "City of Toronto Councillors Ana Bailão (Ward 18) and Gord Perks (Ward 14) join internationally renowned Toronto artist Luis Jacob for a dedication of his new Dufferin Underpass public art project,
Spirits of the Grotto
. The public is also invited to this event. Part of Toronto's Public Art program, the work consists of 34 perforated-metal panels bearing colourful mosaic designs in the shape of eyes gazing down on passing cars, cyclists and pedestrians. For more information on this project please visit:
http://www.livewithculture.ca/art/dufferin-underpass-becomes-a-grotto/
Project financing came from the City's Transportation, Structures and Expressways area, City Planning Urban Design, and Transportation's Public Realm Unit." Excerpted from Councillor Gord Perks'
wonderful blog.