Thank you to Erin Hatfield and the Parkdale Villager for including a story about the Fireside Auditions in their February 21st issue!
Check out this picture of us judges being blown away by Parkdale's talent!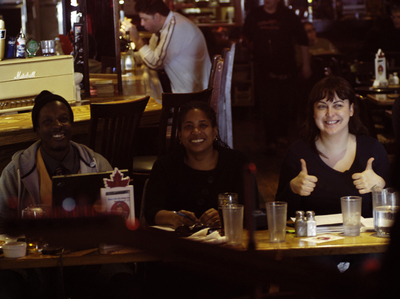 Toronto's talented blow away BIA judges
Performers will take part in annual Fireside Culture Week
Like a scene from a television talent show, Marcus McLean, Heather Douglas and Ellie Anglin from the Parkdale Village Business Improvement Area (BIA) sat facing the stage at an open call audition, ready to be blown away.
And they were.
"I was really happy to see all the talent that came out and was hugely impressed by the talent Toronto has. It makes me proud of my city," said Douglas, the coordinator of the Parkdale Village BIA.
The trio were at a local pub Wednesday, Feb. 8 to audition possible performers, musicians, dancers, actors, comedians, poets, performance artists, magicians, clowns and more for the BIA's Fireside Culture Week IV, which takes place on Queen Street West between Dufferin Street and Roncesvalles Avenue March 12 to 17.
There were more than a dozen performers who auditioned including a storyteller that Douglas said kept the judges captivated with her tales.
"If the auditions we saw were any indication, I think it will be our best year yet," Douglas said. Everyone should definitely come out and check it out."
From those auditions, the judges will choose the performers for the week-long event.
Fireside Culture Week offers residents and visitors experience food, music, art, theatre, comedy and more about 40 venues in the area.
Now in its fourth year, Fireside Culture Week was started by the Parkdale Village BIA as a means to draw people out of their homes and into the establishments along Queen Street West between Dufferin Street to Roncesvalles Avenue in what can sometimes be a bleak and boring time of year.