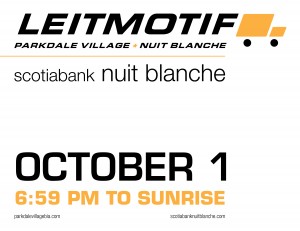 Directed and Curated by Stuart Keeler End Date October 2, 2011
Exhibitions in Cube-Box rental trucks transform Parkdale into a hybridized landscape!
EXHIBITING ARTISTS
Cecilia Berkovic, Lee Blalock, Amanda Browder,  Alexandre David, Patricio Davila + Dan McCafferty, Digital Futures Initiative at OCADU, Exhibit Change, Lynne Heller, Lee Henderson, Nick Hutcheson + Mara Marxt + Eva Schindling, Kelly Jazvac, Caroline + Gord Langill, Ryan Livingstone, Johnson Ngo, Luke Painter, Tamara Platiša + Sasa Rajšić, Quality Slippers, The Toronto Alliance of Art Critics (TAAC), and Marcia Vaitsman
THE EXHIBITION
For its fifth year participating in Scotiabank Nuit Blanche, The Parkdale Village BIA is proud to present LEITMOTIF: Experiments in Public Space. On the night of October 1, 2011, in the neighbourhood of Parkdale Village, 20 enigmatic rental trucks will appear - each one transformed by a LEITMOTIF artist. The trucks will become sculptural objects interpreted as performance stages and installation platforms or completely transformed by audio and video experiences. An artist project – LEITMOTIF is a platform for experimentation in urban public space. As temporary exhibition spaces, the cube-trucks will be "parked" for the night along Queen Street West from Dufferin to Roncesvalles Avenue. The goal of the exhibition is to have viewers connect with personal experiences and define urban epochs as a group experience. The social relations and styles of cultural production are evident in the material culture of opera, performance, and object based works - the actions of dancing, performing, text, talking, puppetry and group sewing - will reveal themselves as constructed built environments, all re-situating the local landscape of Parkdale Village in an intellectual inquiry. LEITMOTIF will guide the artists and communities with interactive works of site-specific engagements from dusk to dawn.
THE CONCEPT
LEITMOTIF narrates itself as a dominant and reoccurring theme. The "cube" trucks, which are actually transitory objects, will embody the repetitive nature of Nuit Blanche - each becoming a site of visual, spatial and visceral expansion. Multiple boundaries of the unconscious will be traversed to reveal new gestures of the imagination as the ultimate experience of viewer déjà vu. These artist supported curatorial inquiries are situated within larger contexts of modernism, postmodernism and what has been called the condition of super-hybridization. The exhibition as a whole considers how we relate to the city, live in the present urban moment and also think about the future of social connectivity.
ENGAGING THE COMMUNITY – Artist Workshop Projects
In addition, 5 site-specific projects grouped as "Associations" will be revealed during the 12 hour Nuit Blanche event. Each of these artist projects will be the result of integrated community collaboration, constructed through investigations via workshops, community participation and online hi-jinks over the 6 months leading up to the October 1 twelve hour exhibition. These socially engaged projects will become embedded into the fabric of the neighborhood and remain after the Nuit Blanche experience. How does art transform a known urban landscape? Workshop Artists: Nick Hutcheson + Mara Marxt + Eva Schindling, Amanda Browder, Marcia Vaitsman, Patricio Davila + Dan McCafferty, and Jenn Chan with Exhibit Change.
ABOUT STUART KEELER, Curator and Director for LEITMOTIF
www.stuartkeeler.com
Stuart Keeler is a Toronto based artist of public spaces who organizes exhibitions and multiplatform projects with the indeterminate role of "curator" as the main identity of his practice. Is it "public art" or is it art in public space? The role of the artist is challenged by his investigative projects interpreting social praxis as an innovative business model. This ongoing dedication aims to analyze, critique and reanimate the challenging and tedious norms of an institutionalized art world. Declaring his identity as an "Institution," Keeler aims to model a new process of "curator" by engaging with a continuing dialogue in public space centered on the expanded role of the artist. Over the last 20 years Keeler has exhibited internationally, as well as completed over 70 public art commissions on 4 continents. A veteran practitioner of art in public space, Keeler consults, advises, as well as produces innovative multifaceted approaches with public and private agencies and institutions.
ABOUT THE PARKDALE VILLAGE BIA
www.parkdlaevillagebia.com
Parkdale Village began as a wealthy suburb of Toronto in 1879. The elegant Victorian mansions are a constant reminder of Parkdale's heritage. That's history. Today, you can see that Parkdale has undergone a renaissance, a rebirth as a unique and vibrant neighbourhood that delights, that enthralls, that welcomes visitors seeking exciting and wonderful sensations. Wander along Queen Street West between Dufferin Street and Roncesvalles Avenue. The sights and sounds will entice you to take a closer look; the tastes, aromas and touchables will make you linger and return, again and again. Experience Parkdale the way it is today. Look again and see it for the first time.
The Parkdale Village Business Improvement Area (PVBIA) is dedicated to improving Parkdale Village's streetscape and beautifying the neighbourhood to create and continue a feeling of pride within the community, and encourage new visitors to explore Parkdale.
ABOUT SCOTIABANK NUIT BLANCHE
http://www.scotiabanknuitblanche.ca
Nuit Blanche was originally conceived in Paris, France in 2002, in an attempt to bring contemporary art to the masses in public spaces. Now universally translated as 'Sleepless Night,' Nuit Blanche brings more than a million people to the streets of Paris every year. In 2006, Nuit Blanche came to Toronto. At its core, Nuit Blanche is a 12-hour event with a mandate to make contemporary art accessible to large audiences, while inspiring dialogue and engaging the public to examine its significance and impact on public space. Nuit Blanche is both a "high art" event and a free populous event that encourages celebration and community engagement. From sunset to sunrise city spaces and neighbourhoods are transformed into temporary exhibitions. Unusual or forbidden spaces become sites of contemporary art open for all-night discovery and rediscovery.
To locate artist projects on the Scotiabank Nuit Blanche Website or in the published map/catalogue produced by The City of Toronto please use the following as a guide: http://www.scotiabanknuitblanche.ca
C 33 Experiments in Public Space:
LEITMOTIF aims to create a platform for artist experimentation from the studio to public space
C 34 Cubes:
Stationary rental "cube" trucks are investigated as experimental artist platforms of "site"
C 35 Manifestations:
Temporary audio, video or light based works specifically located throughout the neighborhood
C 36 Cohesions:
A series of interactive installations which involve the viewer in the production and experience
C 37 Associations:
A collection of projects which embody a relational or social participation, interaction and dialogue as a main component of the work
C 38 Dioramas:
A pageantry of performative actions repeated throughout the night as the viewer engages
Ce document est disponsible en français sur demande. | This document is available in French upon request.
# # #
FOR INQUIRIES, Please contact:
Parkdale Village BIA Executive Director
– Heather Douglas:
director@parkdalevillagebia.com
Curator and Director
– Stuart Keeler:
r.stuartkeeler@gmail.com
Project Manager and Advisor
– Lisa Dewberry Thrower:
projects.leitmotif@gmail.com
Parkdale Village:
http://www.parkdalevillagebia.com/
LEITMOTIF on Facebook [
Leitmotif | Scotiabank Nuit Blanche]
LEITMOTIF on twitter
[Leitmotif2011]
Thank you to the Ontario Arts Council for their support of LEITMOTIF
LEITMOTIF is possible with good spirited collaborative support by Advantage Car & Truck Rentals - www.advantagecarrentals.com
LEITMOTIF is also appreciative of the support we are receiving from the following community sponsors:
Advantage Car & Truck Rentals, Barton Floor Coverings, Belle Optical, Brock Carpet, Capital Espresso, City of Toronto Public Library - Parkdale Branch, Common Sort, Free Radio Berkeley, Future Cinema Lab at York University, Gladstone Café, The Gladstone Hotel, Hope Neon, Ltd., Imagine8, Ingrid Mueller Art + Concepts, Mangez, Mascot Café, Misfit Studio, São Paulo Biennial Foundation, OCADU, PARC, Parkdale Village BIA, Public Butter, Queen West Antique Centre, Queen West Subscape Inc, Rhino, Shop Girls, Studio Brilliante, Toronto Public Space Initiative, The Workroom and the spirited community of Parkdale Village.