In two years, Toronto will host the 2015 Pan/Parapan Am Games. Held every four years, the world's third largest international, multi-sport games will attract an influx of tourists, athletes and spectators to municipalities from Oshawa to Welland, giving Toronto—and Parkdale—the chance to demonstrate its hosting ability as a welcoming, world-class destination.
Nearby Exhibition Place will play home to Toronto Pan Am Park, the largest of the Games' seven venue clusters. With events such as volleyball, rugby, gymnastics, weightlifting and triathlon, it will also be the starting and finishing lines for road cycling. Exact numbers of expected visitors vary, but for reference, the 2011 Games in Guadalajara, Mexico, drew over 450,000 visitors, spending upwards of US $210 million. It's clear that the 2015 Pan/Parapan Am Games offers an incredible opportunity for Parkdale businesses to generate revenue through tourist spend.
Recently, celebrated Toronto Star food writer Corey Mintz showcased Parkdale as a featured destination in Porter Airlines' re:porter magazine. This exciting five-page spread highlighted Parkdale's desirability and covered local businesses Porzia, Capital Espresso, Chantecler, Electric Mud BBQ, The Future of Frances Watson, Studio Brillantine, Hideaway Antiques, General Hardware Contemporary and The Workroom. Read the full article here > 
[caption id="attachment_2574" align="aligncenter" width="511"]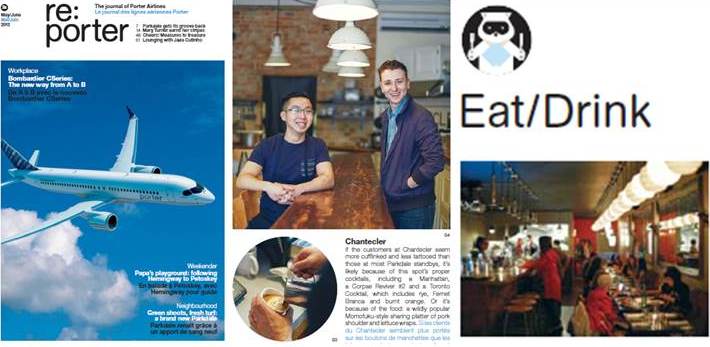 re:porter Words: Corey Mintz Photography: Dan Ehrenworth[/caption] In
The Not-So-Wild West,
Mintz credits Parkdale's diverse community of artists and immigrants for what he calls a robust revival—but we know has been here all along. This dynamic neighbourhood's international flair and inclusive atmosphere makes it the perfect destination for tourism.  [caption id="attachment_2575" align="aligncenter" width="330"]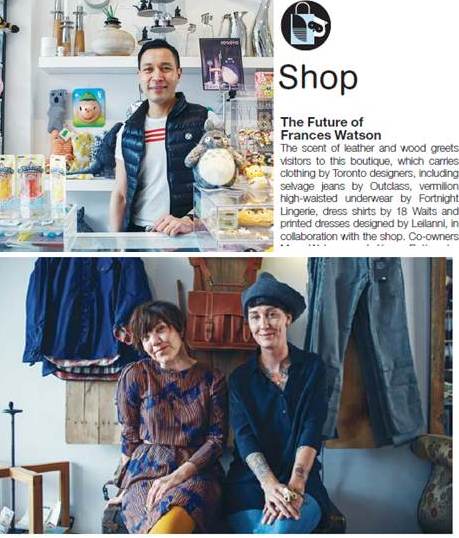 re:porter Words: Corey Mintz Photography: Dan Ehrenworth[/caption] Comprised of 41 countries in North, Central and South America as well as the Caribbean, the Pan/Parapan Am Games will create a varied group of travellers, each seeking new—and familiar—experiences. Southern Caribbean and Guyanese visitors can sample a bite of home at one of Parkdale's many roti shops, such as
Roti Lady
, or explore new tastes at
Om Tibetan Restaurant
.
Grand Electric
provides Mexican fusion, and there are numerous affordable options for American tourists looking for a quick slice of pizza, or perhaps a more Canadian icy treat to cool them down from
The Boreal Gelato Company
.  Beyond cuisine, the uniqueness of Parkdale Village BIA's businesses provide both residents and visitors alike with a variety of shopping possibilities that would satisfy any fashionista or bargain hunter. From bustling antique markets like
Passion for the Past
, specialized boutiques, such as
Sylvie and Shimmy
, to contemporary art galleries like Sh
awn Skeir
, this diverse community offers something for everyone. And when the Games end and the sun sets, any one of Parkdale's bustling bars, such as
The Parkdale Drink
or
The Local Kitchen and Wine Bar
, would make the perfect place to sip a cocktail and chat the night away with new friends! [caption id="attachment_2576" align="aligncenter" width="439"]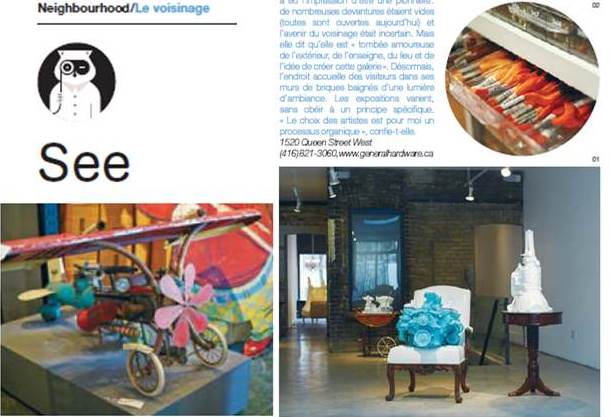 re:porter Words: Corey Mintz Photography: Dan Ehrenworth[/caption] Parkdale has clearly undergone a renaissance, rediscovering its roots as a vibrant neighbourhood that delights and welcomes visitors. The presence of a large immigrant community and an influx of artists and young professionals have helped create the distinct personality that will entice tourists and enhance business for years to come.