To help kick off a weekend of celebrations and specials for the 135th Anniversary - you're invited to a party on
Thu Jan 23rd @ 8pm!!
Over the past 135 years Parkdale Village has seen many ups, downs, trends and changes - and over such a long history, many of them have been for the better! The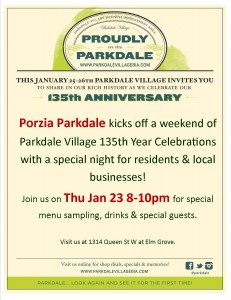 foodie movement is one such trend and although its recent reincarnation may seen new, Parkdale has in fact had dozens of food establishments for dozens of years, offering cuisine from all around the world. It's no wonder that many have found welcome and comfort in opening up new establishments and experimenting with food in the area. One such gem is Chef
Basilio Pesces
from
Porzia Parkdale
Restaurant which opened its doors to locals just 1 year ago this weekend! To help kick off a weekend filled with neighbourhood celebrations, the BIA and Porzia invite residents and local businesses to drop in
Thu Jan 23rd 8-10pm and sample some specially made cocktails, snacks 
and share some Parkdale memories with neighbours and new friends. The festivities at Porzia don't stop there, to help celebrate their 1st year anniversary, join them on Sunday January 26th for a special 5 course dinner. For ticket info email info@porzia.ca. Visit us weekly as we share more
Anniversary Celebrations
, or
click here
to learn more about Parkdale's rich history.