Media Release 
Spring into Parkdale 
- The Parkdale Village BIA celebrates a new season with outdoor event supporting local shopping & community engagement -
Parkdale, Toronto, Ontario (April 15, 2013)
– The Parkdale Village BIA is delighted to announce its inaugural Spring event, encouraging residents and visitors to meet business owners and community groups, shop locally and enjoy free family activities. Over 50 businesses and community groups are expected to participate in the weekend event. "With the seasonal changes it takes a little extra encouragement to get people back in the habit of summer strolling," says Anna Bartula, Executive Director of the Parkdale Village BIA. "This event encourages residents to explore the neighbourhood, helping businesses reconnect with existing and new clientele by offering free activities and attractions along the busy strip, as well as engagement through food sampling and special deals." The program is part of a new directive to re-introducing the public to their surrounding community and how much it has to offer, from shopping to creative and cultural diversity. "There are so many new as well as long-standing businesses in the area, sometimes it's easy to forget when a grocer or service provided isn't top of mind, and taking a stroll around the block is a great reminder," says Bartula. The celebration continues throughout the weekend and includes free craft workshops from cupcake decorating to plant potting, tulip giveaways, rickshaw rides along Queen Street West, food and historical walking tours, as well as the 'Tale of a Town' trailer where residents and business owners can record their Parkdale stories. Visitors are also encouraged to donate their unwanted Lego blocks at one of the key attraction zones set up for the event; the blocks will be used for a future community art project.
What:
Spring into Parkdale Sidewalk Sale and outdoor event
When:
Saturday April 20
th
and Sunday April 21
st
, 2013, 10:00am-7:00pm
(hours may vary per business)
Where:
Sidewalk Sale located along Queen Street West from Roncesvalles Avenue to Dufferin Street
Key activities located at three (3) zones: Triller Avenue Zone 1, Close Avenue Zone 2 and Dufferin Street Amphitheatre Zone 3
Activities:                    
Sidewalk sale, food sampling, special deals
Rickshaw rides along Queen Street West
Visit the 'Tale of a Town' trailer and share your Parkdale neighbourhood stories http://www.thetaleofatown.com/
Free workshops: seeding, cupcake decorating, flower potting, bird house painting, knitting & button making
Free attractions: face painting, caricature portraits, fruit punch sampling, tulip giveaways
Local musical entertainment
Donate your unwanted Lego blocks for a community art project
Join the Parkdale Village Historical Society & the Roncesvalles Village Historical Society for a Historical Walking Tour of Queen Street!  http://pvhs.info/
Join Foodies on Foot Food Tour as they explore the culinary delights of Parkdale http://foodiesonfoot.ca/spring-into-parkdale-food-tour/
…and so much more!
Who:
Over 50+ BIA Businesses, Community groups and Associations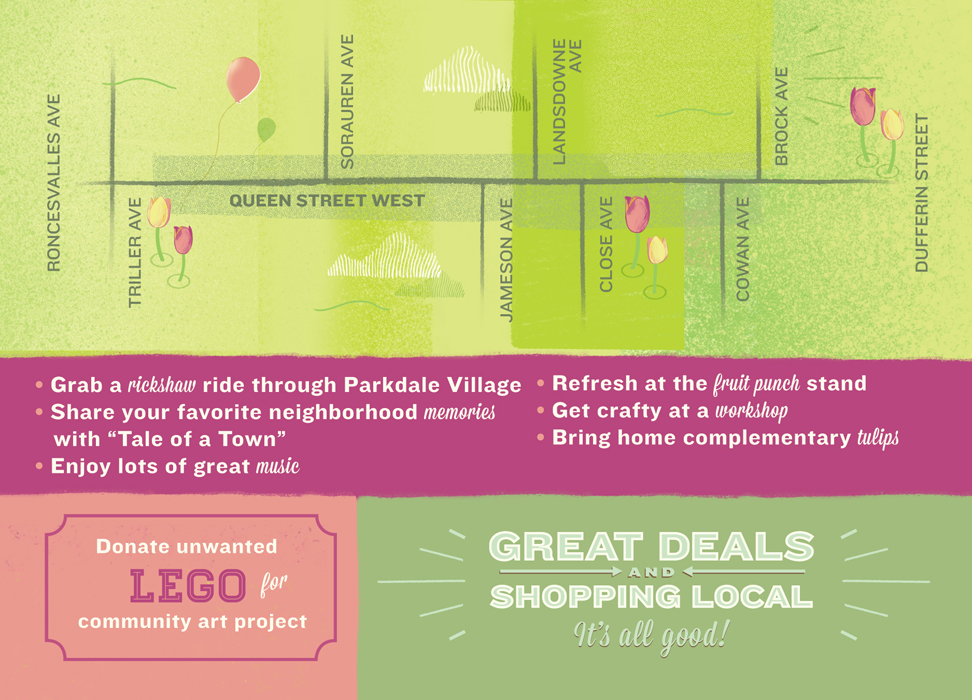 About the Parkdale Village Business Improvement Area
Parkdale Village began as a wealthy suburb of Toronto in 1879. The elegant Victorian mansions are a constant reminder of Parkdale's heritage. Today, you can see that Parkdale has undergone a renaissance, a rebirth as a unique and vibrant neighbourhood that delights, that enthrals, that welcomes visitors seeking exciting and wonderful sensations.  Wander along Queen Street West between Dufferin Street and Roncesvalles Avenue. The sights and sounds will entice you to take a closer look; the tastes and aromas will make you linger and return, again and again. Experience Parkdale the way it is today.  The Parkdale Village Business Improvement Area (PVBIA) is dedicated to improving Parkdale Village's streetscape and beautifying the neighbourhood to create and continue a feeling of pride within the community, and encourage new visitors to explore Parkdale.
For Inquiries:
Anna Bartula, Executive Director, PVBIA,
director@parkdalevillagebia.com
Online and Social Media
Facebook:
http://www.facebook.com/ParkdaleVillage
  Instagram:
http://instagram.com/parkdalevillage
  Twitter: @parkdalebia  #parkdale  #springintoparkdale