The Parkdale Village BIA has been awarded a $500 grant from the Landscape Ontario Toronto (LOTO) Chapter, the funds will go towards Phase 1 of revitalizing the West Lodge Garden. [caption id="attachment_6418" align="aligncenter" width="733"]

West Lodge Garden - After[/caption] Located at the corner of Queen Street West and West Lodge Avenue, is the public West Lodge community garden, maintained year-round by PVBIA. In recent years, the garden has been susceptible to litter, illegal dumping and unwanted, illicit activity and has posed some challenges for community stakeholders working to improve the corner. Phase 1 of the Garden makeover began last week with the removal of cedar trees which posed structural challenges as well as safety concerns, the $500 grant will enable PVBIA to continue Phase 1 with weeding, adding new soil and plants, with hopes of Phase 2 of the rejuvenation being funded in 2019. [caption id="attachment_6419" align="aligncenter" width="300"]
West Lodge Garden - Before[/caption] Special thanks to
Parkdale Green Thumbs Enterprise
for their ongoing expertise, products and services throughout the grant application. Hand and Glove Gardening Co., local to Parkdale will be responsible for the reinvigoration of the garden. Stay in the loop on the progress at the West Lodge Garden on our social media! Instagram
@parkdalevillage
, Facebook
@ParkdaleVillage
and Twitter
@ParkdaleBIA
Parkdale Village BIA Floral Programs
Did you know that the PVBIA oversees 7 community gardens? We continue to manage the installation, watering, and maintenance of over 180 floral assets in Parkdale such as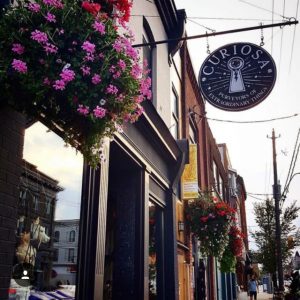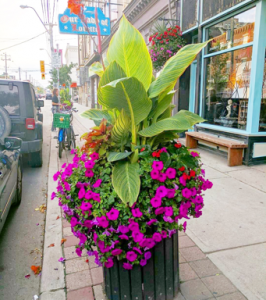 sidewalk planters, gardens and hanging flower baskets on storefronts. Contact us if you are interested in a floral hanging basket for your storefront facade!
How the Grant Recipients Were Chosen
All successful applicants had a project with a clear vision of community benefit and provided a viable implementation plan, a realistic budget, an ongoing maintenance plan and possess strongly engaged volunteers. In several cases, the projects involve long-term engagement by dedicated community members.
About Landscape Ontario Toronto Chapter
The Toronto Chapter of Landscape Ontario financially supports local community projects through their bursary program that encourages and supports community greening initiatives as a way to give back to the neighbourhoods and communities their members live and work in. This year, the Toronto Chapter expanded the program to offer $15,000, a $5000 increase from 2017, with individual maximum grants of $1500. The applications they received support community gardens, pollinator plantings, native plant gardens, and laneway rehabilitation projects. For more information about the 2018 Landscape Ontario Toronto Chapter Bursary and the winning community projects, visit
here
 and stay updated on their progress through their Instagram
@landscapeontario
and Twitter 
@green_for_life
.